Merchants To Demand IDs for MTN MoMo Transactions From February 1
Telecommunication giant, MTN, has declared that effective February 1, 2021, all mobile money transactions on its platform will be carried out with valid identification cards.
It says merchants are to demand the ID cards for all transactions at MoMo agent points.
The valid IDs to be accepted for these new developments are Ghana card, Driving License, Passport, Voter's ID, Social Security and National Insurance Trust (SSNIT) ID, and the National Health Insurance Scheme (NHIS) card.
Explaining how the ID will be used, MTN explained: "when an agent is performing a cash-out for a subscriber, the agent is required to select the ID type and enter the ID number of the ID card the subscriber provides."
This means that without the card, one would not be able to complete the process to either cash-out or deposit money.
Source: www.GhanaCNN.com
Techno Spark 5 Price In Ghana
The Mediatek MT6761 Helio A22 Quad-core processor drives the smartphone. The mobile comes with a 7.0 inch IPS LCD capacitive touchscreen and a resolution of 720 x 1640 pixels.
The rear camera is made up of 13 MP + QVGA Dual-LED flash lenses. There is an 8 MP sensor with a Dual-LED flash on the front camera. Fingerprint (rear-mounted), accelerometer, and proximity are the sensors present in the appliance.
A Non-removable Li-Ion 5000 mAh battery powers the smartphone. The phone is powered by Android 10 + HIOS 6.0.0. Like Ice Jadeite, Spark Orange, Vacation Blue, and Misty Green, the TECNO Spark 5 Air comes in various colors. Micro USB 2.0 and USB On-The-Go are included. 2 GB of RAM and 32 GB of ROM are built into the computer.
The price of Ghana's Tecno Spark 5 smartphone is Gh 690. Since the launch of Tecno Spark 5 in the country on May 22, 2020, (Official). The Tecno Spark 5 smartphone comes in Ice Jadeite, Spark Green, Vacation Blue, Misty Grey finishes, and now has paint choices.
Source: www.GhanaCNN.com
Samsung To Release A Super Mobile Phone Of All Time(VIDEO)
Tech giant, Samsung is currently working on the upcoming Samsung Galaxy zero smartphone, which will have no ports at all. This ensures that it would be wireless to recharge and listen to music via the earpiece.
It is rumored that this phone is the first of its kind. All the other phones we know have charging ports as well as earpieces.
This particular phone is fully closed and only wireless charging and the Samsung Earbud will be allowed.
A video was leaked showing the phone's impressive specifications and features. The conditions referred to in the video are as follows;
Ram – 10GB / 12GB
Rom – 1 Terabytes
According to rumors circulating, the Samsung Galaxy zero will be released in December 2025.
Source: www.GhanaCNN.com
This Is The Only Fastest Way To Save Your Phone When It Falls Into Water
Have you ever jumped with your phone in your pocket into a pool of water? Have you ever lost your phone when the dishes or the laundry are being done? Or have you been caught without an umbrella in heavy rain?
Indeed, water can destroy not only the physical components of your phone, but you can also lose your images and documents. Do not think a lot if you ever go through any of these circumstances. We're going to cover some practical stuff you should do in this article should your computer fall into the water.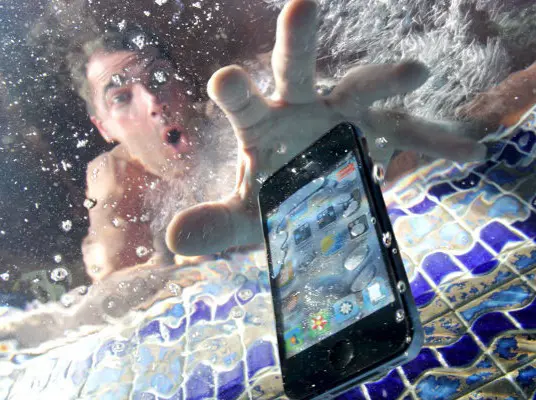 Of course, the first thing you have to do is quickly get it out of the water. That's because you're going to get more water into your phone if you don't do that, and the more water, the more dangerous your mobile will be.
You have to turn the phone off then. Your phone will often turn off when it gets in contact with the water. Your phone will undergo what we call short circulation if it does not, and you do not do this, and it will increase the harm to the mechanisms inside. Nonetheless, if the power button is not working and your phone is not "in-built", immediately pull the battery.
Removing the sim card, memory card, headphones and all other peripherals is the next thing you can do. Also, you can remove the case or cover of the handset. These items can trap moisture and can avoid or decrease damage to the phone by removing it. (Remember to use the sim card, memory card, headphones, and peripherals to clean and dry)
Dry a cloth or a towel with your cell. This will just take care of the moisture on the phone's surface. Go ahead and shake the unit to extract the droplets that are trapped inside (be sure not to drop the phone when doing this). Now, put your phone in a plastic bag and use a vacuum cleaner to suck the air out. This would suck the liquid right out of the device's inner parts.
The next thing you can do is to put the phone, such as a bowl of rice, in an absorbent material. It is understood that a bowl of uncooked rice draws the remaining moisture away from the phone and flows into the rice. For a minimum of 2 days, place your phone in a container or bowl of rice. After 2 days, it is best for you to wait and let it dry.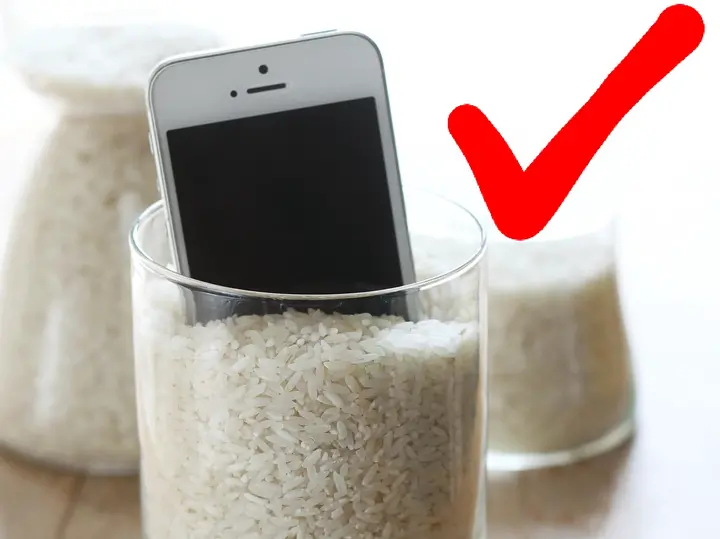 You can turn the phone on after all the above operation. If it doesn't work, then it usually means it is hurt. And if it turns on, chances are high that it may not be exactly as it used to be.
Now it's time for your voice to be heard. What other stuff would you do to save your phone from getting wet? In the comments, let us know your thoughts.
Source: www.GhanaCNN.com