Just In: Accident At Buipe-Tamale Highway Kills 17, 90 Others Injured
According to a publication made by Graphic Online, scores of people have lost their lives on the Buipe-Tamale highway in the Central Gonja District of the Savannah Region Wednesday morning after two buses traveling from Kumasi to Zebila and one from Garu to Kumasi respectively ran into each other.
The Savannah Regional Commander of the Ghana National Fire Service (GNFS), Assistant Chief Fire Officer (ACFO), Mr Kwasi Baffour-Awuah who confirmed the accident to Graphic Online said the Buipe Fire Station received a distress call at 12.46 am and arrived at the accident scene at 1.20 am.
He said the injured, numbering about 90, were sent to the Buipe Polyclinic and Holistic Medicare Hospital and the Tamale Teaching Hospital (TTH).
Source: www.GhanaCNN.com
Breaking News: 2 Nigerian Kidnappers Sentenced To Death By Hanging For Doing This
The two Nigerians, Samuel Udoetuk Wills and John Oji have been found guilty of kidnapping and killing the four Takoradi girls.
They have subsequently been sentenced to death by hanging.
They have been given 30 days within which they can appeal the sentence.
The two were found guilty by the seven-member jury at the Sekondi High Court on Friday [March 5, 2021] reports Graphic Online's Dotsey Koblah Aklorbortu from Sekondi in the Western Region.
The High Court presided over by Justice Richard Adjei-Frimpong, a Court of Appeal Judge with additional responsibility as a High Court judge, gave the sentence after the 7-member jury found them guilty.
Source: www.GhanaCNN.com
We Are Highly Disappointed In You For Doing This To Us- Sammy Gyamfi Fires Harruna Iddriso And Alban Bagbin
Sammy Gyamfi is back in the news after deciding to take on the National Democratic Congress's top lawmakers in Parliament.
Members of the NDC party are having a bad day after their Presidential Candidate lost his petition to overturn the presidential election result announced by the electoral commission chairperson on January 9th.
However, that is not the main topic of discussion as their National Communication Director, Sammy Gyamfi, has launched a scathing attack on Speaker of Parliament and Minority Leader, Hon. Haruna Iddrisu, for what he has described as betrayal to the party.
His lengthy rant has drawn the attention of many sympathizers who believe he has a point, but the manner in which he chose to express himself is the real issue for everyone, including Deus.
According to Deus, the Young Lawyer is gifted with knowledge but lacking in wisdom, and his inability to combine his knowledge and wisdom is why his cases are dismissed.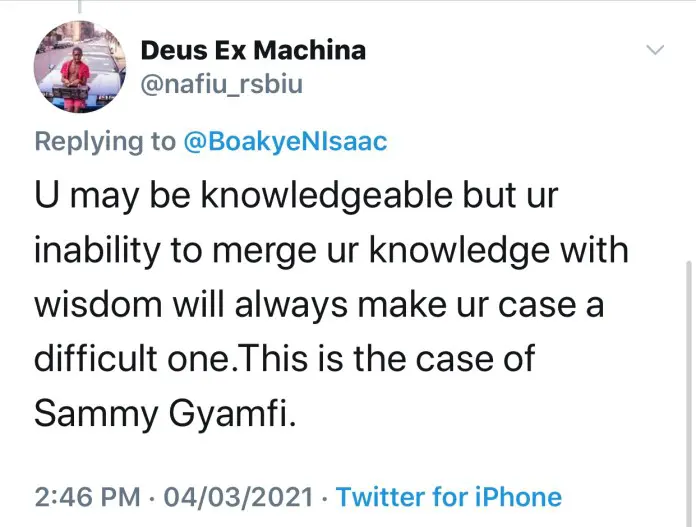 Source: www.GhanaCNN.com
See Koku Anyidoho Mocks John Mahama For Losing Court Case (Screenshot)
In a series of tweets, Koku Anyidoho, a former Deputy General Secretary of the National Democratic Congress (NDC), urged Ghanaians to separate the NDC from John Dramani Mahama's Supreme Court defeat following the final verdict on the 2020 election petition.
Mr. Anyidoho, who is currently serving a suspension from the NDC, pointed out that former President John Dramani Mahama contested the results of the 2020 elections on his own behalf, not on behalf of the entire party.
"People should keep in mind that the NDC is not in court ooo: it is an individual who is in court!
People should pls remember that it is not the NDC which is in court ooo: it is an individual who is in court!

— Samuel Koku Anyidoho🇬🇭 (@KokuAnyidoho) March 4, 2021
"
Source: www.GhanaCNN.com