Date Rush: Bebelino Allegedly Steals Sandra's Ghc5,000.00 From Her Room
Date Rush's Sandra and her new-found love Bebelino has been trending on Twitter for all the controversial reasons after it was earlier reported on Date Rush Reunion that Bebelino remains lazy and has no dream.
Sandra on Date Rush Reunion lamented that Bebelino is a nice guy to be with but she has only one big problem with him.
According to Sandra, Bebelino was lazy and she doesn't see him to be a serious guy who has plans for his business.
Sandra deeply from her heart revaled that shje has money and she wouldnt hesistate to sponsor Bebelino to do a serious business of he cares to venture into one.
Interestingly, Bebelino has been trending on Twitter today after it has been alleged that the lover boy has stolen an amount of Ghc5,000 from Sandra.
Source: www.GhanaCNN.com
Joe Mettle In A Big Trouble, Accused Of Stealing A Gospel Song
Ghanaian gospel musician Joe Mettle has landed in big trouble after being accused of stealing a song belonging to US-based Ghanaian gospel musician Fletcher Narh.
Fletcher Narh revealed this in an interview on Neat FM accusing Joe Mettle of lifting his song without approval from his management.
According to Fletcher Narh, his breakthrough song, 'Mayi W'aye' which was released 15 years ago was taken by Joe Mettle in 2015 also titled "Meyi W'aye" without going through the due copyright process.
"I sang Meyi W'aye about 15 years ago," he told Neat FM on Tuesday. "I'm the only one that understands the history behind the song and how God gave the song. But you know how Ghanaians behave, people do not do the right thing."
He further narrated that Joe Mettle contacted him to sample the song but both didn't agree on a term before it was released.
"He called me years ago and told me he had done all the research and he loves the song and that he wanted to do [sample] it. I said 'that's okay. I have a lot of songs but we have to do it the right way'. He even wanted to know how much I was going to charge for it. I need to pray about it and all that but by the time I realized, he had released it," he narrated.
He said he couldn't take on Joe Mettle because the Ghanaian system doesn't empower copyright owners to take on offenders.
Though excited to see Joe Mettle sample his song, Fletcher said he should have been given some credit.
"I believe that the truth is the truth and nothing can outlive the truth. I was in America when people sent me videos and it was exciting but I feel that I deserved some credit," he added.
Source: www.GhanaCNN.com
The World Will Come To An End, The Day Your Hair Begins To Grow – Abeiku Santana Boldly Tells Akufo Addo (Video)
Date Rush: See How Sammy Of KNUST Reacted That Has Got Social Media Rolling
On yesterday's episode of Date Rush, ten (10) gentlemen from the mounted the show, including KNUST's very own Sammy, also known on the show as Blessing.
Despite the fact that Ali's rush was still active, Sammy expressed his confidence in winning the heart of the heavily endowed queen while turning his rush on Shemima.
Ali is a happy man 😍 #DateRush pic.twitter.com/BRIbYHqB5k

— #TV3GH (@tv3_ghana) May 16, 2021
Interestingly, Shemima chose Ali surprisingly after she turned Nhyiraba's rush off after watching the last video.
The interesting part of it all that took the center stage was Sammy of KNUST's reaction to the dance move by Ali and Shemima.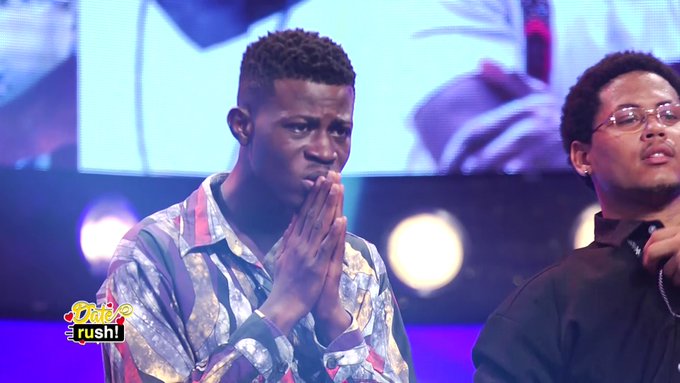 Source: www.KNUSTconnect.Com