Here Is A 5 Checklist For Starting The New Semester At KNUST
Vacation is over, and you're both excited to get out of the house again and dreading the start of another academic year, despite the fact that that's what it means. Whatever your feelings are, you must still prepare. A quick and simple task to help with the transition.
Motivating oneself is starting a new semester is key and it's an impression that one is ever ready to learn from his or her past mistakes and make arrangements for a news successful semester.
Many of us set up student emails during registration and then promptly forget about them. However, at the start of each semester, important information about your course and school changes are sent to your student email.
Once you've gotten familiar with your class schedule, it's time to draw up a study timetable. The earlier you get into the routine of studying, the likelier it is that you stick to it. And you're also going to be more prepared when the exam comes around at the end of the semester.
During the period when adding and dropping of courses is still open, it's a good idea to attend the lecture lectures of all the optional electives so you can evaluate which one is the best fit.
Source: www.KNUSTconnect.Com
2020 WASSCE Malpractices: Swedru Magistrate Court Convicts Students And Teachers For Impersonation
The Agona Swedru Magistrate Court has convicted 7 persons for impersonation in the 2020 West African Secondary School Certificate Examination (WASSCE).
The Seven persons include three students, two teachers and two administrators.
The prosecutor recounted in court on Wednesday that one George Agyekum, who is a complainant in the case led WAEC officials around when the final year SHS students were writing the WASSCE at the various Senior High Schools within Agona Swedru and its environs to check the conduct of the examination.
The police prosecutor, Inspector Chare Salia stated the WASSCE officials asked for the index numbers of some of the candidates and verification of their names in the database of WAEC showed there was some impersonation.
The police suspected Coffie Boakye Nana Yaw had impersonated Hotor Saviour; Clement Sarfo had impersonated Tetteh-Courtnay Clinton Larry, and Bawah David had also impersonated John Faati.
Additionally, he stated that Georgina Danso had also impersonated Odamatey Father Justice Nii Laryea while Desmond Oduro also impersonated Coffie Boakye Nana Yaw.
The prosecutor indicated the suspects were arrested and during interrogation, the suspects admitted that it was Richard Nkrumah and Cedric Sefah Akyeampong who contracted them to impersonate Huntor Savior, Tetteh-Courtnay Clinton Larry, John Faati, Odamatey Father Justice Nii Laryea and Coffie Boakye Nana Yaw to write the WASSCE Core subjects for them.
The named persons had earlier successfully written the Integrated Science and Social Studies papers. They had also already written paper two of Core Mathematics and were in the process of writing the Mathematics paper one when they were arrested.
"On August 20, 2020, Nkrumah and Sefah Acheampong who were at large were arrested and they admitted to the offence in their caution statement," the Prosecutor added.
Georgina Danso, Desmond Oduro and David Bawah, second-year students of the Ngleshie Amanfrom SHS in the Greater Accra Region, were fined ¢1,200 each and barred from taking part in any WASSCE for three years.
An administrator at the Central High School at Agona Swedru, Osman Ahmed, and Clement Sarfo, a staff of the same school were both fined ¢1,200 each. Cedric Sefah Acheampong another teacher at Central High School was also fined ¢2,400.
A teacher at Ngleshie Amanfrom SHS, Richard Nkrumah, alias Emperor, who is also the Assistant Headmaster of Central High School, was sentenced to six months imprisonment.
The convicts initially pleaded not guilty to the charges of impersonation and abetment to commit a crime but they were found guilty at the end of the trial and were subsequently sentenced by the court on Wednesday, July 21, 2021.
After convicting the accused, the presiding magistrate, Isaac Apeatu, hoped that the conviction of the seven persons would serve as a deterrent to many others who have planned and would plan to undertake a similar enterprise.
Source: www.GhanaCNN.com
Female Teacher Cries After Students Did This To Her Whilst Teaching Them This Biology Topic
Some kids, particularly in high schools, are misbehaving and have gotten into difficulty with the school administration as a result of their behavior.
In this regard, a female teacher from a small school in Migori County found herself in an unusual predicament after a pupil allegedly teased her in front of other kids, causing her to cry.
According to a Facebook post by a local resident, the teacher was giving over Biology test papers when one student requested the teacher to explain a question about dental care that the majority of the students had answered incorrectly.
In response to his teacher's unclean teeth, the student pressed the teacher to explain how to maintain your teeth clean and healthy.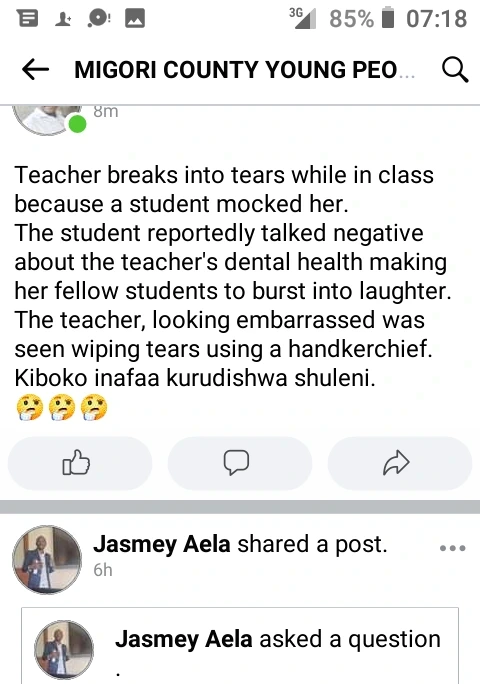 Things got heated when one of the students pointed out the teacher's teeth, prompting him to inquire what was stuck on her teeth and whether she didn't brush well.
She said, "Teacher, I have a question."
'Go ahead,' the teacher said.
"Teacher, I notice you have tiny dirt on your teeth; does this mean you don't brush them every day?" She inquired.
This question made the entire class giggle, humiliating and embarrassing the teacher.
After learning that the pupils had been making fun of her oral hygiene the upset instructor burst into tears.
She swiftly exited the classroom and reported the incident to the deputy principal's office.
Source: www.GhanaCNN.com
GNAT Is A Savings And Loans Company And Not A Teachers Union — Teacher Kwadwo Spits Venom On Live TV
Celebrated Ghanaians teacher cum Video blogger, Teacher Kwadwo has shared that the Ghana National Association of Teachers (GNAT) is a Saving and Loans Company and not a teacher union as known.
Speaking on Max24 Tv, Teacher Kwadwo shares that the Ghana National Association of Teachers is the only association in Ghana that forced its members into taking loans from them
He said so with his reasons been that working as a teacher himself, he has witnessed several occasions whereby teachers are encouraged to take loans while they charge them with huge interest rates.
"GNAT is the only association that behaves like a Savings and Loans Company in Ghana…." — he said.
Source: www.GhanaCNN.com