Has Akufo Addo Awarded Ken Agyapong For Attacking Journalist With Ghana Gas Chairmanship Position? – Full Details
Controversial politico, Kennedy Ohene Agyapong who doubles as the Chairman of the KenCity Media and the Member of Parliament (MP) for Assin Central Constituency on the ticket of the ruling New Patriotic Party (NPP) has always been in the news for all the controversial reasons.
The vociferous Legislator has been appointed the Chairman of Parliament's Committee on Defence and Interior which is responsible for meeting and debating on issues that affect the security of the state.
With the Chairman of Parliament's Committee on Defence and Interior position, the firebrand MP was expected to be dealing with all the security agencies and will champion their cause in the law-making chamber.
Despite the numerous criticisms that come along with his appointments, His Excellency President Akufo-Addo has appointed the Assin Central Member of Parliament, Kennedy Ohene Agyapong, as the new Board Chairman of the Ghana Gas Company Limited.
Other members of the nine-member board are Mr. Ben KD Asante, the Managing Director of the company; Mr. John Darko, Mrs. Adelaide Mary Benneh; Awulae Amihere Kpanyinli; Mr. Abraham Ossei Aidooh; Madam Delphine Dogbegah; Nana Owusu Ansah Ababio, and Mr. Stephen Sumani Nayina.
The sad part of the new appointment is that the said legislature, Kennedy Agyapong has been in the news in recent times following his attacks on journalists and the president's first statements on the issue seem to be awarding him with a new appointment.
Kennedy Agyapong caught on camera confessing that the president of Ghana @NAkufoAddo is in full support of his threat against journalist like @anasglobal and slain journalist Ahmed Suale. This confirms his recent attacks on @JoyNewsOnTV reporter Erastus Asare Donkor. @BBCAfrica pic.twitter.com/JwV8fvdQIv

— Kevin Taylor (@KevinEkowTaylor) July 21, 2021
President Akufo Addo has not condemned the words of his 'boy' Kennedy Agyapong but has the balls to award him with a new appointment on the same day that a video of him surfaced afforming the fact that President Akufo Addo supports his attacks. 
Is Kennedy Agyapong awarded with this position for his attacks on journalists?
– GhanaCNN Senior Editor (Obibiniba Asante)
Source: www.GhanaCNN.com
How To Use Onion To Tie Someone To Love You (Video)
How To Use Onion To Tie Someone To Love You (Video)
Partner tie early on is a game-changer, It can help you define the rules, set expectations, and encourage better work and love from your partner and from your own.
A video seen by GhanaCNN.com shows a Herbalist teaching the world how to use onion to tier partner whom you want him to love you.
According to the Herbalist, onion is one of the best vegetables that can be used to tie partner who you love most to stay with.
Explaining how to use the onion, reads; Pick or buy onion and write the name of the person you want him or her to love you and place it inside, sow it nicely.
"When sowing, keeping mentioning the name with a strong belief in the heart by command saying, today I want you and our love to be one both physical and spiritual and keep sowing it nicely but never try it if you don't love the person because it will affect you…" – he added.
Watch The Video Below:
Source: www.GhanaCNN.com
Cashout Wahala! Young Boy Cries After Betting Company Denies Him Cashing Out
Cashout Wahala! Young Boy Cries After Betting Company Denies Him Cashing Out
A young boy has been spotted in a viral video as he laments over how a betting company has refused to pay him with the claim that he's underage.
Children below 18 years are seized from engaging in some practices in society and gambling is one of the many things.
Well, this young boy seems to be heartbroken by the policy of betting companies as he has disclosed that he's been playing sports bets since 2019 but no one stopped him when he was losing money.
He emphasized that he hasn't been able to win but for the first time, lucky smiled at him he's being barred from claiming his money because of his age.
Watch the video below:
 

 

View this post on Instagram

 
Source: www.GhanaCNN.com
Meet The 12-Years-Old Boy Who Was Born Without An Anus
We never know how strong we are until being strong is the only choice we have, we can never have healed without sickness.
Life has its own way of defining who we are or who we become at its own peril.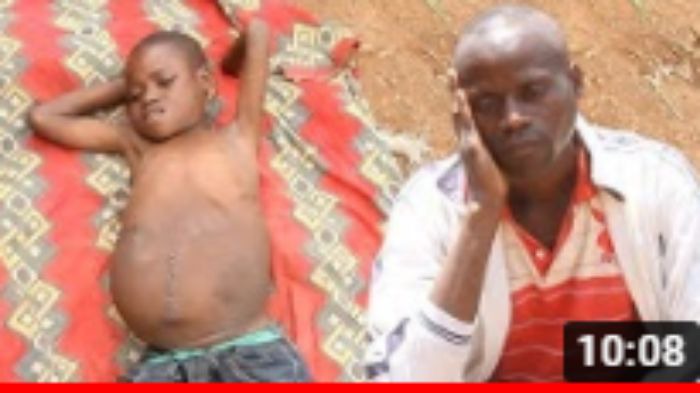 Today, GhanaCNN.com brings you a story of a father who has vowed to sell all he had worked for just to enable his son to pass stool properly as all human beings do. Thus; Meet The 12-Years-Old Boy Who Has No Anus:
Parents of the young boys are poor but have tried all that they could just to see their son well and healthy again. They have sold all that they had including their roofing just to see their son well again. Now they live in fear of rain.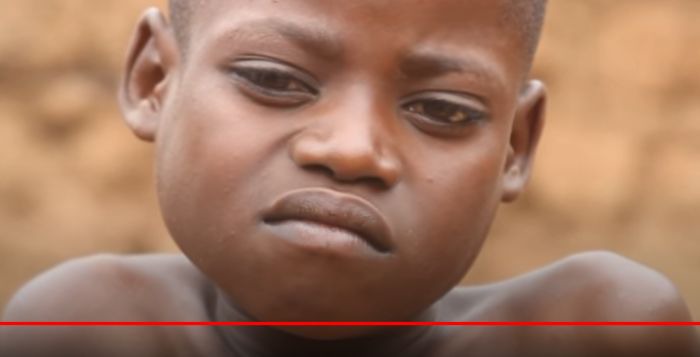 Since the parents sold all that they laid hands on just for their son's surgical operations, they went broke and couldn't seek advanced treatment for the boy that could have secured the poor boy a place of relief.
Since the advanced surgical operation wasn't enough, the least they could do is to watch their son pass stool through his mouth.
Thus he eats from his mouth and passes feces through the same mouth. This is a very unpleasant situation but that s what poverty has thrown at them.
The poor boy has undergone three different surgical operations but the doctors have failed to help him secure an anus and they have recommended to the parents to take their son to a big hospital in the city.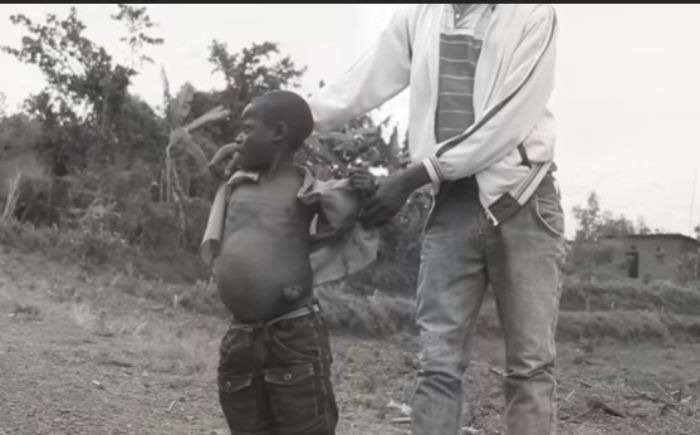 The problem the parents now face is that they owe banks and friends and are left with nothing that can be used to take their ward to the city for experts to seek their son's wellbeing.
Life is one big truck that carries a lot of sorrow, disappointment, setbacks, pain, hard times, and it leaves us with nothing but to have hope, faith, and a lot more we have to expect every day.
Source: www.GhanaCNN.com