5 Lessons Every Ghanaian Should Learn Special Prosecutor, Kissi Agyebeng's Vetting
On April 16, 2021, the Attorney General, Godfred Yeboah Dame, nominated Kissi Agyebeng to the President, for appointment to the Office of the Special Prosecutor.
This is pursuant to Section 13 (3) of the Office of the Special Prosecutor Act, 2017 (Act 959).
The position became vacant when President Akufo-Addo accepted Martin Amidu's resignation on November 16, last year.
Mr Kissi Agyebeng is a Private Legal Practitioner and Law Lecturer. His nomination was greeted with mixed reactions from Civil Society Organizations, political analysts, politicians and the general public.
However, the Presidency wrote to say, "the President, Nana Addo Dankwa Akufo-Addo, has accepted the nomination of Mr Agyebeng as the Special Prosecutor."
A statement issued by the Presidency on Thursday, May 6, 2021, said, "a letter has been sent to the Speaker of Parliament to that effect, to seek Parliamentary Approval in accordance with the law.
In accordance with Section 13 (8) of the Special Prosecutor Act, 2017 (Act 959), a replacement is required within six months of the position becoming vacant.
It's been over six months, but it's better late than never, the cliché goes. So, Thursday, July 22, Mr Agyebeng, 43, appeared before Parliament's Appointments Committee to be vetted for the vacant position.
The Special Prosecutor's duties include preventing, investigating, and prosecuting corruption issues under the Public Procurement Act, 2003 (Act 663) and Criminal Offences Act, 1960 (Act 29), and recovering and managing assets proceeds of corruption.
As in every human endeavour, lessons are learnt. And the vetting of the prospective Special Prosecutor threw up a few when he answered very probing questions from the Committee chaired by First Deputy Speaker of Parliament, Joseph Osei Owusu.
Let's take a cue.
Always be yourself
It is good to learn from others, especially those who may have more experience than you do. But remember to always wear your own shoes.
"Honourable Chair, I will prefer to wear my own shoes. In the sense that I am my own man, and I am coming with my own experiences and professional training. In this quest, my conscience and my learning of the law are going to be my guide."
I have a strategy
If you do not know where you are going, any road can take you there. But if you have a strategy, you will get there with the most efficient and effective means. Fighting corruption is not different.
"Honourable Chair, I'm not naive to assume that I am coming to stop corruption, there's no way I can stop corruption. God himself will not even acclaim to that. But I am going to make corruption very costly, very very costly to engage in, in terms of conflict of interest.
I would institute what I call 'Pressure for Progress', and in this quest, there is going to be a systemic review of all public agencies and the development of integrity plans.
Don't let relationships influence your professional judgement
No man is an island, we need family relations and friends to get by. But when it comes to public office, the two are not bedfellows.
"I was not involved in Agyapa transactions in any form or manner or any stretch of the imagination, however, fertile.
As for relationships, as I just disclosed, the fact that I was so close to you at some point in our lives will not give you a free pass because of that relationship and that is why I am here.
And if there is a matter, I am not going to say because I know one person or the other I am not going to investigate the matter. I certainly will investigate."
If you agree with a controversial principle, endorse it
The 'Anas principle' of recording individuals alleged to be engaged in corrupt practices, in secret, has been praised and condemned by various persons for varied reasons. But if it will help you achieve your objective, use it.
"I fully subscribe to Anas principle and I am going to use it. I have already stated that I will be engaging investigative journalists in respect to my work if given the nod.
I say so because, I have intimated that corruption is so secretive and complex and unless the participants are coming to you to report themselves, it is almost impossible to find out.
Now, if someone can go underground, and through a sting operation. come out with some evidence, which has probative value, I am all for it and I am going to use it."
Don't cut your nose to spite your face
Corruption, especially in the public sector, is one of the main channels through which state funds end up in private pockets. Fighting it requires different approaches, the Office of the Special Prosecutor can only do so much. But if you abolish it, you do so at your own risk.
"The office is to investigate, prevent, prosecute for corruption and manage seized frozen or confiscated property. But in terms of the relevance of this Office, the day we scrap this office is the day we say goodbye to our fight against corruption.
Its relevance is borne out by its attributes and its uniqueness, it is unique as compared to all the other law enforcement agencies in respect of its mandate. Because, no other institution has been carefully thought out and designed to fight corruption specifically, as Act 959 has done.
The Office meets the standards of the United Nations Convention against Corruption – the legally binding international anti-corruption multilateral treaty – and the African Union Convention on Preventing and Combating Corruption."
There you have it. Six lessons from the vetting of Mr Kissi Agyebeng.
He seems to have impressed the Committee. So, by consensus, the NPP and NDC members have recommended him for approval. "He met all the requirements that we were looking for in a nominee for the Office of the Special Prosecutor. So the Committee unanimously agreed to recommend him to the House for approval," Chairman Osei Owusu told Adom News barely an hour after the vetting.
The report of the Committee is expected to be laid before the House either on Friday, July 23 or Tuesday, July 27.
Source: www.GhanaCNN.com
How To Use Onion To Tie Someone To Love You (Video)
How To Use Onion To Tie Someone To Love You (Video)
Partner tie early on is a game-changer, It can help you define the rules, set expectations, and encourage better work and love from your partner and from your own.
A video seen by GhanaCNN.com shows a Herbalist teaching the world how to use onion to tier partner whom you want him to love you.
According to the Herbalist, onion is one of the best vegetables that can be used to tie partner who you love most to stay with.
Explaining how to use the onion, reads; Pick or buy onion and write the name of the person you want him or her to love you and place it inside, sow it nicely.
"When sowing, keeping mentioning the name with a strong belief in the heart by command saying, today I want you and our love to be one both physical and spiritual and keep sowing it nicely but never try it if you don't love the person because it will affect you…" – he added.
Watch The Video Below:
Source: www.GhanaCNN.com
Cashout Wahala! Young Boy Cries After Betting Company Denies Him Cashing Out
Cashout Wahala! Young Boy Cries After Betting Company Denies Him Cashing Out
A young boy has been spotted in a viral video as he laments over how a betting company has refused to pay him with the claim that he's underage.
Children below 18 years are seized from engaging in some practices in society and gambling is one of the many things.
Well, this young boy seems to be heartbroken by the policy of betting companies as he has disclosed that he's been playing sports bets since 2019 but no one stopped him when he was losing money.
He emphasized that he hasn't been able to win but for the first time, lucky smiled at him he's being barred from claiming his money because of his age.
Watch the video below:
 

 

View this post on Instagram

 
Source: www.GhanaCNN.com
Meet The 12-Years-Old Boy Who Was Born Without An Anus
We never know how strong we are until being strong is the only choice we have, we can never have healed without sickness.
Life has its own way of defining who we are or who we become at its own peril.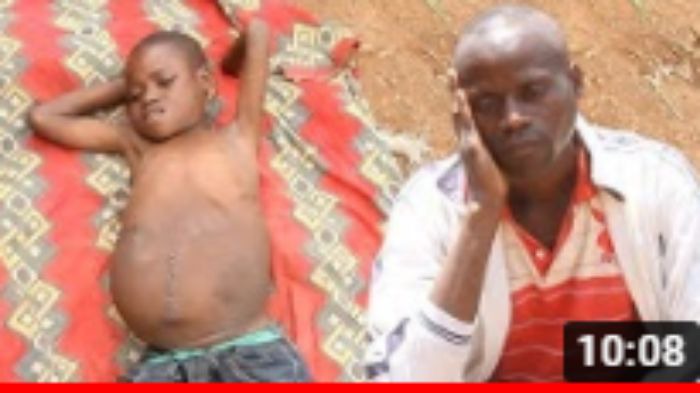 Today, GhanaCNN.com brings you a story of a father who has vowed to sell all he had worked for just to enable his son to pass stool properly as all human beings do. Thus; Meet The 12-Years-Old Boy Who Has No Anus:
Parents of the young boys are poor but have tried all that they could just to see their son well and healthy again. They have sold all that they had including their roofing just to see their son well again. Now they live in fear of rain.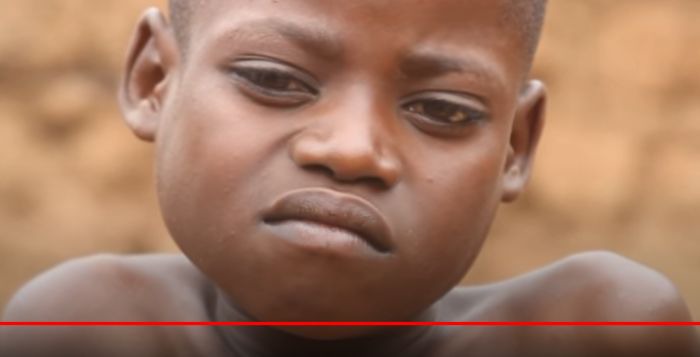 Since the parents sold all that they laid hands on just for their son's surgical operations, they went broke and couldn't seek advanced treatment for the boy that could have secured the poor boy a place of relief.
Since the advanced surgical operation wasn't enough, the least they could do is to watch their son pass stool through his mouth.
Thus he eats from his mouth and passes feces through the same mouth. This is a very unpleasant situation but that s what poverty has thrown at them.
The poor boy has undergone three different surgical operations but the doctors have failed to help him secure an anus and they have recommended to the parents to take their son to a big hospital in the city.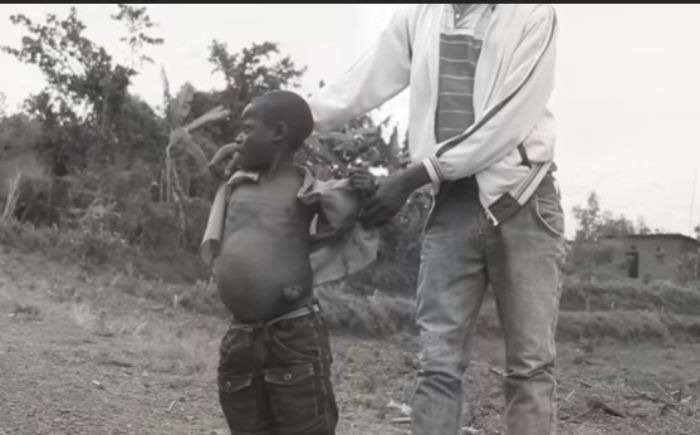 The problem the parents now face is that they owe banks and friends and are left with nothing that can be used to take their ward to the city for experts to seek their son's wellbeing.
Life is one big truck that carries a lot of sorrow, disappointment, setbacks, pain, hard times, and it leaves us with nothing but to have hope, faith, and a lot more we have to expect every day.
Source: www.GhanaCNN.com