Can The Moon Actually Crash Toward The Earth?
In the trailer for the film Moonfall, our satellite gets a little too close for comfort. The following are the physics of ejecting the moon from orbit.
THERE'S A TRAILER out for a new science fiction film called Moonfall, to be released in early 2022, in which the moon is about to crash into Earth. It features several shots of a reddish moon hovering extremely close to the planet, crumbling apart while sucking the oceans toward it, the debris flying into spacecraft and mountains. It doesn't actually show a collision—you know, it's just a trailer and they don't want to spoil everything.
This isn't the first movie to stretch the bounds of believable physics. (Remember Sharknado?) But just because it's science fiction doesn't mean it's totally wrong. That's why I'm here: I'm going to go over the actual physics that would apply if the moon ever got too close to us.
How Could the Moon Crash Into Earth?
According to the movie's official IMDB entry, "a mysterious force knocks the moon from its orbit," precipitating its plunge toward Earth. That's not a lot to go on. Would there really be a way to make that happen?
Let's start with a basic model of how the planet and its satellite act on each other. A gravitational force pulls Earth and the moon toward each other. This force depends on the mass of both objects and has a magnitude inversely proportional to the square of the distance between the centers of the two bodies.
Here is an expression for just the magnitude of this force. (Really, it's a vector.)
In this expression, G is the universal gravitational constant. The masses of the moon and Earth are mm and mE. The distance between them is r.
You might think that this gravitational force would be all you need to make the moon slam into the planet—and that would be true if the moon wasn't in orbit around Earth. However, since the moon is moving in a direction that's perpendicular to the gravitational force, this force causes its path to curve in one direction so it loops around the planet instead of diving into it.
Forces cause a change in momentum, where momentum is the product of mass and velocity for an object (represented by the symbol p). We call this the momentum principle, and it looks like this:
Since velocity is a vector, the value of momentum depends on the direction the object is moving. If a force pulls on an object in a direction perpendicular to its momentum, that object will move in a circle with the force pointing toward the center. So, the moon moves in a circular orbit because there is a "sideways" force pulling on it due to its gravitational interaction with Earth.
But wait! If Earth pulls on the moon to make it move in a circle, wouldn't the moon pull back and make Earth also move in a circle? Yup! Both bodies are interacting and both objects orbit around a common center of mass. You can think of the center of mass as a "balance point" for everyday objects. For the Earth-moon system, this center of mass will be much closer to Earth since its mass is so much larger than the moon's.
Of course, the motion of Earth is much smaller than that of the moon, but here's why that happens. There's only one gravitational interaction between Earth and the moon—so the magnitude of the force that the moon exerts on Earth is the same as the magnitude of the force that Earth exerts on the moon. Both should have the same change in momentum since they have the same force.
However, since the mass of Earth is 81 times larger than the mass of the moon, it will have a smaller change in velocity. That means the size of its circular orbit will be much smaller. The orbital radius of Earth is actually smaller than Earth itself, which means that the center of mass of the planet moves in a circle—but that circle is smaller than the planet. In the end, this just looks like a slight wobble.
Now I'm going to use this very basic introduction to orbital mechanics to build a model of the Earth-moon system in Python so that we can see what happens when some mysterious force pushes on the moon. If you want all the details of how to build this model, here's a video:
Source: www.GhanaCNN.com
How To Stop Buffering Problems When Live Streaming
How To Stop Buffering Problems When Live Streaming
Live streaming has a charm to it. People stick to watching it for long without batting their eyelids. But, just when you start getting into sync with the live stream does that dreaded thing starts to happen! Buffering. The small rounded dots seems to go on forever.
"Why does my video keep buffering?"
At least one-half of viewers who watched a live stream swear to ask this question helplessly.
There are 5 common reasons that cause buffering issues:
1. The connection between the live video encoder and the server is interrupted
2. The Internet connection speed is inadequate to accommodate the encoder's bitrate
3. Extinguishing the bitrate available for the live streaming platform
4. Excess load on the server making it to crash
5. The Internet bandwidth may be inadequate to push the live stream completely
Is it possible to spot what causes buffering issues in live streaming and seal them once and for all?
In most cases, YES. Here is how to fix it.
Adaptive Bit-rate Streaming
Keep the Bandwidth Under 1 Mbps
Maintain a Higher Upload Speed
Set a Lower Keyframe Interval
Don't Overload Your Encoder
Pick Wired Encoder Above a Wireless One
1. Adaptive Bit-Rate Streaming
Quite often, in live streaming, as well as on the Internet, it is not easy for data to reach the server. Due to network issues or system issues, the data might not cross to the server completely, as a result of which buffering problems kick into the live stream.
But, there is a quick fix. Adaptive bit-rate streaming helps combat these issues by streaming the video in lower quality than totally disconnecting the stream. Adaptive bit-rate streaming ensures that the live stream is not interrupted and continues with a bit rate that adapts to the available bandwidth.
2. Keep The Bandwidth Under 1 Mbps
YouTube reports that mobile video consumption doubles every year. Mobile has replaced TV and desktops as the main device for media consumption. So, there is a compulsion to make your live stream compatible with mobile devices.
A good practice to achieve mobile-friendly or any screen-friendly live streaming is to keep the bandwidth under 1 Mbps. If your bandwidth exceeds 1 Mbps, there is a high chance that the live stream will experience buffering issues. Most encoders come with the flexibility to set the bandwidth at which your video stream must happen. As a golden rule, fix it under 1 Mbps and your live stream must work fine and smooth.
3. Maintain A Higher Upload Speed
Your upload speed and live streaming buffering are directly connected. It is ideal to have twice the upload speed compared to the bitrate. When the upload speed falls, the stream gets delayed in reaching the user or gets distributed in broken packets which are shown as buffering.
To avoid that maintain a higher upload speed, which means you will require a higher Internet bandwidth. Other factors like a wired encoder will also contribute to the live stream upload speed.
4. Set A Lower Keyframe Interval
Setting an optimum keyframe interval can help mitigate the issues in video buffering. However, there is a catch. You cannot set two keyframes two farther from each other, nor can you set them too close.
If set apart in longer intervals, the video stream may not be capable of responding when there is a network hitch. If kept too close, the quality of the live stream will deplete. A keyframe interval of 2 to 3 seconds between each other works fine in most cases.
5. Don't Overload Your Encoder
An encoder is a bridge that forges a connection between your camera and the user's screen. The encoder is what transmits the video as it is from the camera across the Internet to the user screen. That said, it is obvious that your encoder will have to handle serious traffic regularly.
If you pile it with additional heavy-duty tasks like recording the live stream simultaneously, there is a huge risk that the encoder will snap from functioning. This will inevitably cause live streaming issues. However, this should not happen if you pick a conducive encoder that can handle heavy-duty live streaming as well as its recording easily.
6. Pick Wired Encoder Above a Wireless One
Wireless encoders are good and help reduce the clutter in a physical recording environment. But, they have some inherent cons. Wi-fi-connected encoders might get their signals messed with neighboring signals. Also, if there are plenty of users logging into the same wifi network, the live stream has a fatty chance of being disrupted.
Using a cloud video encoder is the only option you have, go for dedicated wifi with a good throw area for a buffer-free live stream. On the other hand, you can go for a wired encoder which will ensure that the stream flows uninterruptedly at all times.
Source: www.GhanaCNN.com
Scientists Have Developed A Tiny Camera That Can Take Photos Of Your Brain
Scientists Have Developed A Tiny Camera That Can Take Photos Of Your Brain
Scientists have developed a camera lens the size of a grain of salt that can capture higher-quality photographs of the insides of our bodies than existing technology.
Cameras are now everywhere. They're on computers, phones, doorbells, and other devices, and they're so little because light intensity sensors have been miniaturized.
Traditional imaging systems, on the other hand, rely on a set of lenses to make pictures less fuzzy, and they place a physical restriction on how compact cameras may be.
Meta-optics is another technique. These employ hundreds of thousands of tiny "nano-antennas," which are microscopic structures that can catch and re-emit light on a nanometer scale. A sheet of paper is approximately 100,000 nanometers thick.
Cameras based on this technology have previously been developed, but their pictures have often been poor or had small fields of view. Now, researchers have suggested "neural nano-optics," a hybrid of the previous technologies with machine learning.
According to the researchers behind it, it is capable of capturing full-color shots with a 40-degree field of vision, due in part to a deep learning computer program that aids in image construction.
According to the team's assessment, the image quality is "on par" with that of a commercially available compound lens 550,000 times larger.
The accompanying photographs appear to illustrate that the brain nano-optics images are comparable to the compound lens images, which include photos of fruit dishes, chameleons, and flowers.
The small camera "may permit new possibilities" in medical imagery within people's bodies, including brain imaging, according to research explaining the technique. According to the study, numerous of these cameras might be distributed across surfaces like "optical 'dust.'"
According to a news statement from the Princeton University Engineering School, the new optical system incorporating the nano-antennas is just half a millimeter wide.
"It's been a struggle to create and set up these small things," Ethan Tseng, a computer science Ph.D. student at the university who co-led the research, stated in a press statement.
"It's difficult for this specific purpose of taking the big field of view RGB photos because there are millions of these minute microstructures, and it's not apparent how to build them optimally."
To get around this, co-led author Shane Colburn of the University of Washington's Department of Electrical and Computer Engineering created a computer simulation that evaluated several settings automatically to assist them to locate ones that worked.
On November 29, their study, titled "Neural nano-optics for high-quality thin lens imaging," was published in the journal Nature Communications.
Source: www.GhanaCNN.com
MTN Exposes Akufo Addo's Government; Reveals How They Were Forced To Increase Call and Data Charges
MTN Exposes Akufo Addo's Government; Reveals How They Were Forced To Increase Call and Data Charges
Ghanaian Telecommunication Giants, MTN have offered an explanation as to the ridiculous upward adjustment in their call and data packages in recent times.
Subscribers of MTN would have realized in recent times that the network's prices for Mashup and internet are not like before as customers are now paying more for less talk time and data access.
However, in an explanation offered by one of the Network's Customer Relations personnel on social media, in response to a query from a customer, MTN is basically not at fault here.
According to the said customer service representative, the Network is only responding to an order from the regulator (Government) to adjust their prices upwards in order to allow for a fair competition with other networks.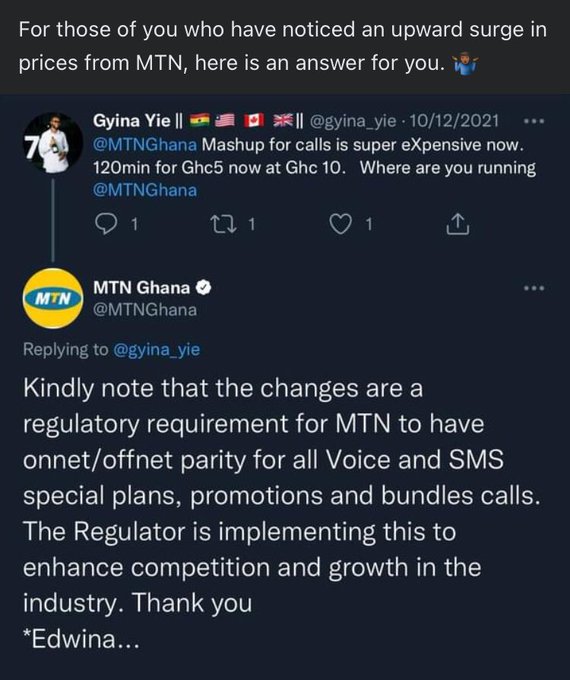 This has led to many Ghanaians wondering the sense in such a directive by the regulator considering the fact that competition is supposed to bring a reduction and not an increase.
Meanwhile, Government as the regulator, is yet to respond to the issues.
Source: www.GhanaCNN.com