Apple Watch Series 7 Vs Samsung Galaxy Watch 4: Which Should You Buy?
Apple Watch Series 7 Vs Samsung Galaxy Watch 4: Which Should You Buy?
The Apple Watch Series 7 is available in aluminum, stainless steel, and titanium. The only model with new color options is the aluminum model. The aluminum colors are midnight, starlight, green, blue, and red.
Are the Galaxy Watch 4 or Galaxy Watch 4 Classic worth buying? Yes, absolutely. If you're looking for the best smartwatch you can buy that isn't made by Apple, the Galaxy Watch 4 or the Galaxy Watch 4 Classic are it. However, with two distinct smartwatches this time around, users have a choice to make.
The walls around the garden are getting taller. While it's always been a bit of a hassle to switch between platforms, the inclusion of pricier accessories like smartwatches and wireless earbuds that only work with particular devices have made the prospect of switching trickier than ever.
Neither the Apple Watch Series 7 or Samsung's Galaxy Watch 4 are cross-platform, so while their high price tags will earn you some nifty features like sleep tracking and convenient notifications, they'll also serve as another reason to stay put on your respective platform. If you're going to splurge on a pricey smartwatch, it should be good enough to justify the lock-in that comes with the extra purchase.
As we noted in our review of the Galaxy Watch 4, it's the first of Samsung's smartwatches to require a Samsung device for the best experience. Although it's compatible with other Android devices, such as the Google Pixel 6, you'll have to install a few extra apps during setup. The Galaxy Watch 4 also won't work with iPhones at all, unlike the Galaxy Watch 3.
Nothing's changed on Apple's end with the Apple Watch Series 7, which only works with iOS devices. While that's a bit of a bummer, that's always been the case with Apple's devices.
Both the Apple Watch and the Galaxy Watch have GPS and GPS+Cellular options, and all come with 802.11b/g/n 2.4GHz and 5.0GHz Wi-Fi and Bluetooth 5.0. With both watches, the cellular models will require an additional monthly payment on your wireless plan (usually around $10/month).
Both the Series 7 and the Galaxy Watch 4 have an array of sensors that can routinely scan your body metrics to monitor things like heart rate, time asleep, and even blood oxygen level.
Like the Apple Watch Series 6, the Series 7 is packed with an ECG (electrocardiogram) and optical heart sensor, as well as a blood oxygen sensor. Nothing inside has changed with the Series 7, which means it all works just as well as the Series 6, but also means you can probably skip the upgrade, too.
While both watches can track workouts ranging from runs and walks to bike rides and hikes, the Apple Watch Series 7 has the added benefit of automatically logging cycling workouts. Older Apple Watches could only do this for walks and runs.
The Galaxy Watch 4 also has an ECG sensor, optical heart sensor, and bioelectrical impedance analysis sensor, which sends a tiny electric charge through your body to get an approximation of your body composition.
Overall, both watches successfully logged blood oxygen levels, hours slept, calories burned, and miles walked. It's important to remember, though, that these measurements may not be entirely accurate, and are better suited for tracking progress over time than using them as hard-set data points.
Voice Assistants and Third-party software
Unfortunately, there isn't a contest between Apple's Siri and Samsung's Bixby. Siri is still better at things like summoning directions, running timers and using the internet to answer simple questions. Bixby has a harder time with setting timers and can't run multiple timers at once like the Series 7 can.
The Apple Watch also has the benefit of iOS and watchOS's vast pool of apps that plug into Siri, which allows you to do things like add tasks to your to-do list app of choice, play a song on Spotify or Pandora, and play the latest podcast in your queue.
Google's Wear OS, which powers the Galaxy Watch 4, doesn't have nearly as many apps to choose from, so while the apps available might have voice control options, the pickings are slimmer. It's understandable that Samsung would opt for its own assistant, but it should ensure it's as capable as the competition before doing so. Until then, the Watch 4 would be better powered by Google's more capable Assistant.
The most notable change to the Series 7 is its bigger display (41mm and 45mm, compared to last year's 40mm and 44mm options). The 41mm model features a 1.69-inch display, and the 45mm model is bumped up to a 1.9-inch display. Both still have an OLED display with a rounded square design, with resolutions of 484 x 396 (45mm model) and 430 x 352 (41mm model). The larger display mostly makes text easier to read (there's even a few extra font sizes), but the extra space does allow for a little more information to be shown on screen than previous models.
Meanwhile, the Galaxy Watch 4 features a round, 1.6-inch Super AMOLED display with a resolution of 450 x 450 for the 44mm option, and a 1.2-inch display with a resolution of 396 x 396 for the 40mm model.
Both displays look great indoors and in direct sunlight. The Series 7 has a slightly larger display, but unless you're frequently interacting with your watch, you won't notice the difference.
The Galaxy Watch 4 starts at $250 for the 40mm model and goes up to $330 for the 44mm cellular option. The Watch 4 Classic, which is identical to the Watch 4 aside from its physical bezel, starts at $350 for a 42mm model and $380 for the 46mm option.
You'll have to pay a little more for an Apple Watch. The 41mm model starts at $399 without cellular and goes up to $499 for GPS and cellular. The 45mm option starts at $429 for the GPS-only model and goes up to $529 for the cellular model.
Source: www.GhanaCNN.com
How To Stop Buffering Problems When Live Streaming
How To Stop Buffering Problems When Live Streaming
Live streaming has a charm to it. People stick to watching it for long without batting their eyelids. But, just when you start getting into sync with the live stream does that dreaded thing starts to happen! Buffering. The small rounded dots seems to go on forever.
"Why does my video keep buffering?"
At least one-half of viewers who watched a live stream swear to ask this question helplessly.
There are 5 common reasons that cause buffering issues:
1. The connection between the live video encoder and the server is interrupted
2. The Internet connection speed is inadequate to accommodate the encoder's bitrate
3. Extinguishing the bitrate available for the live streaming platform
4. Excess load on the server making it to crash
5. The Internet bandwidth may be inadequate to push the live stream completely
Is it possible to spot what causes buffering issues in live streaming and seal them once and for all?
In most cases, YES. Here is how to fix it.
Adaptive Bit-rate Streaming
Keep the Bandwidth Under 1 Mbps
Maintain a Higher Upload Speed
Set a Lower Keyframe Interval
Don't Overload Your Encoder
Pick Wired Encoder Above a Wireless One
1. Adaptive Bit-Rate Streaming
Quite often, in live streaming, as well as on the Internet, it is not easy for data to reach the server. Due to network issues or system issues, the data might not cross to the server completely, as a result of which buffering problems kick into the live stream.
But, there is a quick fix. Adaptive bit-rate streaming helps combat these issues by streaming the video in lower quality than totally disconnecting the stream. Adaptive bit-rate streaming ensures that the live stream is not interrupted and continues with a bit rate that adapts to the available bandwidth.
2. Keep The Bandwidth Under 1 Mbps
YouTube reports that mobile video consumption doubles every year. Mobile has replaced TV and desktops as the main device for media consumption. So, there is a compulsion to make your live stream compatible with mobile devices.
A good practice to achieve mobile-friendly or any screen-friendly live streaming is to keep the bandwidth under 1 Mbps. If your bandwidth exceeds 1 Mbps, there is a high chance that the live stream will experience buffering issues. Most encoders come with the flexibility to set the bandwidth at which your video stream must happen. As a golden rule, fix it under 1 Mbps and your live stream must work fine and smooth.
3. Maintain A Higher Upload Speed
Your upload speed and live streaming buffering are directly connected. It is ideal to have twice the upload speed compared to the bitrate. When the upload speed falls, the stream gets delayed in reaching the user or gets distributed in broken packets which are shown as buffering.
To avoid that maintain a higher upload speed, which means you will require a higher Internet bandwidth. Other factors like a wired encoder will also contribute to the live stream upload speed.
4. Set A Lower Keyframe Interval
Setting an optimum keyframe interval can help mitigate the issues in video buffering. However, there is a catch. You cannot set two keyframes two farther from each other, nor can you set them too close.
If set apart in longer intervals, the video stream may not be capable of responding when there is a network hitch. If kept too close, the quality of the live stream will deplete. A keyframe interval of 2 to 3 seconds between each other works fine in most cases.
5. Don't Overload Your Encoder
An encoder is a bridge that forges a connection between your camera and the user's screen. The encoder is what transmits the video as it is from the camera across the Internet to the user screen. That said, it is obvious that your encoder will have to handle serious traffic regularly.
If you pile it with additional heavy-duty tasks like recording the live stream simultaneously, there is a huge risk that the encoder will snap from functioning. This will inevitably cause live streaming issues. However, this should not happen if you pick a conducive encoder that can handle heavy-duty live streaming as well as its recording easily.
6. Pick Wired Encoder Above a Wireless One
Wireless encoders are good and help reduce the clutter in a physical recording environment. But, they have some inherent cons. Wi-fi-connected encoders might get their signals messed with neighboring signals. Also, if there are plenty of users logging into the same wifi network, the live stream has a fatty chance of being disrupted.
Using a cloud video encoder is the only option you have, go for dedicated wifi with a good throw area for a buffer-free live stream. On the other hand, you can go for a wired encoder which will ensure that the stream flows uninterruptedly at all times.
Source: www.GhanaCNN.com
Scientists Have Developed A Tiny Camera That Can Take Photos Of Your Brain
Scientists Have Developed A Tiny Camera That Can Take Photos Of Your Brain
Scientists have developed a camera lens the size of a grain of salt that can capture higher-quality photographs of the insides of our bodies than existing technology.
Cameras are now everywhere. They're on computers, phones, doorbells, and other devices, and they're so little because light intensity sensors have been miniaturized.
Traditional imaging systems, on the other hand, rely on a set of lenses to make pictures less fuzzy, and they place a physical restriction on how compact cameras may be.
Meta-optics is another technique. These employ hundreds of thousands of tiny "nano-antennas," which are microscopic structures that can catch and re-emit light on a nanometer scale. A sheet of paper is approximately 100,000 nanometers thick.
Cameras based on this technology have previously been developed, but their pictures have often been poor or had small fields of view. Now, researchers have suggested "neural nano-optics," a hybrid of the previous technologies with machine learning.
According to the researchers behind it, it is capable of capturing full-color shots with a 40-degree field of vision, due in part to a deep learning computer program that aids in image construction.
According to the team's assessment, the image quality is "on par" with that of a commercially available compound lens 550,000 times larger.
The accompanying photographs appear to illustrate that the brain nano-optics images are comparable to the compound lens images, which include photos of fruit dishes, chameleons, and flowers.
The small camera "may permit new possibilities" in medical imagery within people's bodies, including brain imaging, according to research explaining the technique. According to the study, numerous of these cameras might be distributed across surfaces like "optical 'dust.'"
According to a news statement from the Princeton University Engineering School, the new optical system incorporating the nano-antennas is just half a millimeter wide.
"It's been a struggle to create and set up these small things," Ethan Tseng, a computer science Ph.D. student at the university who co-led the research, stated in a press statement.
"It's difficult for this specific purpose of taking the big field of view RGB photos because there are millions of these minute microstructures, and it's not apparent how to build them optimally."
To get around this, co-led author Shane Colburn of the University of Washington's Department of Electrical and Computer Engineering created a computer simulation that evaluated several settings automatically to assist them to locate ones that worked.
On November 29, their study, titled "Neural nano-optics for high-quality thin lens imaging," was published in the journal Nature Communications.
Source: www.GhanaCNN.com
MTN Exposes Akufo Addo's Government; Reveals How They Were Forced To Increase Call and Data Charges
MTN Exposes Akufo Addo's Government; Reveals How They Were Forced To Increase Call and Data Charges
Ghanaian Telecommunication Giants, MTN have offered an explanation as to the ridiculous upward adjustment in their call and data packages in recent times.
Subscribers of MTN would have realized in recent times that the network's prices for Mashup and internet are not like before as customers are now paying more for less talk time and data access.
However, in an explanation offered by one of the Network's Customer Relations personnel on social media, in response to a query from a customer, MTN is basically not at fault here.
According to the said customer service representative, the Network is only responding to an order from the regulator (Government) to adjust their prices upwards in order to allow for a fair competition with other networks.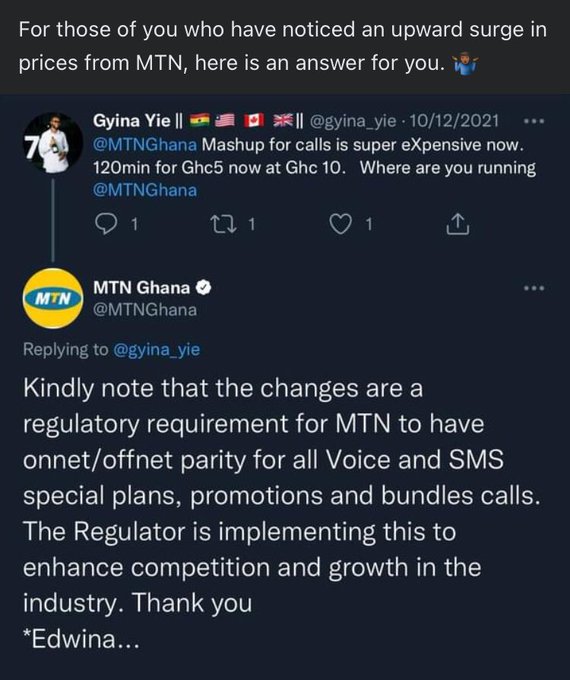 This has led to many Ghanaians wondering the sense in such a directive by the regulator considering the fact that competition is supposed to bring a reduction and not an increase.
Meanwhile, Government as the regulator, is yet to respond to the issues.
Source: www.GhanaCNN.com