Everything You Need To Know About Ghana's IGP, George Akuffo Dampare
Everything You Need To Know About Ghana's IGP, George Akuffo Dampare
Born in the year 1970, George Akuffo Dampare is a Ghanaian chartered accountant and police officer in the Ghana Police Service (GPS) acting as the Inspector General of Police (IGP).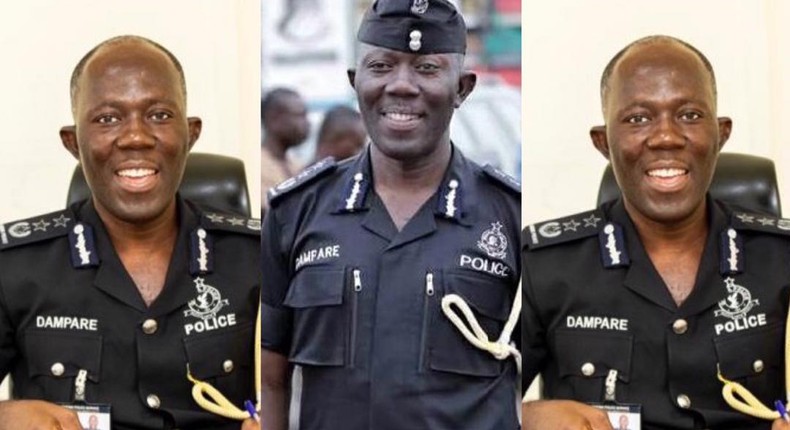 President Nana Akufo-Addo appointed him as the acting Inspector General of Police of the Ghana Police Service on 21 July 2021, effective 1 August 2021, succeeding James Oppong-Boanuh, who had served since October 2019.
An Inspector General of Police is a senior police officer in the police force or police service of several nations. The rank usually refers to the head of a large regional command within a police service, and in many countries refers to the most senior officer of the entire national police.
In 1894, the Institution of Police was formalized with the passing of the Police Ordinance which gave legal authority for the formation of a civil police force.
With this history, Dr. George Akuffo Dampare remains the Fourth Republic's youngest Acting Inspector–General of Police (IGP) and Ghana's eighth youngest since independence. He was the most senior police officer after the recently retired IGP prior to this appointment.
Dr. Dampare joined the Ghana Police Service (GPS) as a Constable in December 1990, at the age of 20, and rose through the ranks to become Commissioner of Police (COP) 24 years later, in 2014, at the age of 44, a position he held until his appointment.
Dr. Dampare was named the overall Best Recruit at the National Police Training School in 1991, after completing his recruit training, and he won all awards except the 'Best Marksman' award. In 1996, he was named the overall Best Cadet for the 32nd Cadet Officers' Course at the Ghana Police Academy (formerly, Police College), and he received all awards, including Excellence in Professional Police Subjects and Excellence in Academic Subjects.
Dr. Dampare has made significant contributions to policing in Ghana and beyond over the course of his thirty-year career as a police officer, as enumerated below:
At the leadership and management level, Dampare has had the rare privilege of serving as the Head (Director-General) of almost every major department, giving him greater insight into the administration of policing in Ghana. Specifically, Dr. Dampare has been Director-General for Administration and Director-General for Welfare twice.
He has also served as Director-General for MTTD, Director-General for Research & Planning, Director-General for Operations, Director-General for ICT, Director-General for Finance, and Director-General for National Patrol Department (Police Visibility Department).
Other leadership positions Dr. Dampare previously held include Commandant of the Police Command and Staff College, Accra Regional Police Commander, Regional Commander for Railways, Ports and Harbour (now Police Marine Department), Municipal Commander for Cape-Coast, and Chief Internal Auditor of the GPS.
Between 2010 and 2015, under the leadership of two IGPs, Messrs. Paul Tawiah Quaye and Mohammed Ahmed Alhassan, Dampare led and coordinated the 'National Anti-armed Robbery Reward to Informant Initiative', which saw the arrest and prosecution of many notorious armed robbers across the country.
As the Director-General for National Operations, Dr. Dampare created an efficient system where fragmented units were consolidated to create effective and complete departments such as the establishment of an Anti-armed Robbery Unit (the COMBAT Unit) to aggressively fight robbery and other violent crimes.
He also created the Intelligence Unit within the National Operations Department, which later informed the creation of a Police Intelligence Department at the national level.
As Accra Regional Police Commander, Dampare introduced an innovative and proactive policing strategy called the "Continuous Stakeholder Engagement Programme" where all stakeholders were included and involved in policing the Region. For the first time, through this initiative, the Ghana Police Service under his leadership, visited Political Parties in their offices to engage them.
As Director-General in charge of Welfare, Dr. Dampare introduced an innovative social welfare scheme where he led officers from the Department to visit the homes of scores of sick and bedridden police officers across the country, and also introduced strategic medical interventions to facilitate their wellness.
Still, at Welfare, Dampare initiated a process at Dodowa and Kasoa to reclaim lands owned and paid for by police officers. The matter had become a national security threat as many officers were angry at the failure of the leadership of the police administration to intervene in the situation which had lasted for close to a decade.
In 2013, under the leadership of the then Inspector-General of Police (IGP), Mr. Mohammed Ahmed Alhassan, Dr. Dampare led a team of officers, working day and night, to restructure the Armoured Car Squadron (ACS) Unit into the Formed Police Unit (FPU) within a record time of ten (10) weeks. This task had remained impossible for over fifteen years.
The FPU has now become one of the police units undertaking internal police operations and international peacekeeping missions under the United Nations and African Union.
As the Director-General of the National Patrol Department (Police Visibility Department) and under the leadership of the then IGP, Mohammed Ahmed Alhassan, Dampare supervised the implementation of the novel "Police Visibility" program which saw the presence of police personnel at most intersections and communities in Ghana.
Again, during the implementation of the vision of the then IGP, Mohammed Ahmed Alhassan, for the creation of the Police Service Command and Staff College at Winneba and the Police Service Public Safety Training School at Pwalugu, Dr. Dampare was the leader of the technical teams that ensured the full operationalization of these two specialist training institutions.
George Dampare is credited with the idea that led to the establishment of the office of the Armourer-General which serves as the central point for accounting for arms and ammunition within the Ghana Police Service as well as the establishment of the Service Enquiry Monitoring Unit (SEMU) with the responsibility of managing the GPS disciplinary system.
As Coordinator of the National Inter-Ministerial Task Force for the 2007 Ghana Floods which was under the overall leadership of Dr. Mrs. Mary Chinnery-Hesse (then Chief Advisor to H.E. President J.A. Kufuor), Dr. Dampare led a team, within a seven-month period, to develop and implement a National Disaster Management Model, which brought all United Nations Agencies, Red Cross, and Civil Society organizations, among others, together, to successfully manage the disaster.
As Director-General for Finance, Dampare led a Police Technical Implementation Team to work with the Fair Wages and Salaries Commission, to migrate the Police Service onto the Single Spine Salary Structure as the first institution in the country to successfully complete the migration.
Still, as Director-General for Finance, Dampare also introduced the payment of recruits' allowances through the bank by getting the bank accounts as well as ATM cards. He also engaged the banks and got them to build ATMs at the Police Training Schools at no cost to the Government.
Under the visionary instructions of the then IGP, Mr. Paul Tawiah Quaye, Dampare also led a team to establish the Procurement Unit of the GPS and ensure full implementation of the Procurement Act. He introduced cost-saving measures in the repair of Service vehicles and the use of hotel accommodation, among others.
George Dampare led a team of officers to use mostly donations from the private sector to give a facelift to the Police Headquarters by constructing a Public Affairs building, the Integrity Square, the Police Fitness and Social Centre, and a Helipad. The CID Headquarters building was also refurbished under his leadership.
As Accra Regional Commander, Dampare raised sufficient capital from the private sector to complete a new office complex and re-roofed 90% of all office buildings at the Regional Headquarters which had been in a deplorable state for years.
During his policing career, Dr. Dampare has undertaken numerous law enforcement courses at tactical, operational, strategic leadership and management levels, making him an all-around police officer with the required skills and competencies commensurate with his rank.
Aside from his policing, Dr. Dampare previously worked as a Research Fellow and lecturer at King's College London, University of London. He also lectured at the University of Cape-Coast (UCC), Ghana Institute of Management and Public Administration (GIMPA), Regent University College, and the Data Link University College. He is also one of the pioneer lecturers at the Business School of the Kwame Nkrumah University of Science and Technology (KNUST), Kumasi.
Having passed the GCE Ordinary and Advanced level examinations as a private candidate in 1989 and 1992 respectively, Dr. Dampare proceeded to study accountancy and became a Chartered Accountant in 1996 at age 25. He also holds a Doctor of Philosophy (Ph.D.) degree in Finance and Management from the King's College, London, University of London, and has two Master of Science degrees with distinction in Accounting & Finance, from London South Bank University, UK and Business Systems Analysis & Design from City University of London, UK.
Dr. Dampare also has a certificate in High Impact leadership from the Institute for Sustainability Leadership, University of Cambridge, UK, and a certificate in Leadership and Management from the Aresty Institute of Executive Education, The Wharton School, University of Pennsylvania, USA.
Dr. Dampare is a member of a number of professional associations including the International Association of Chiefs of Police (ICP), International Association of Crime Analysts (IACA), the Institute of Chartered Accountants (ICA), and the Ghana Journalists Association (GJA).
Dr. Dampare has also served and continues to serve on several boards including the Economic and Organized Crime Office (EOCO) Governing Board, Data Link University College Council, Police Central Disciplinary Board, and the Pumpkins Foundation Board (a philanthropic organization for underprivileged children, including those with autism).
Dr. George Akufo Dampare is married to Anita Akufo Dampare and they are blessed with six (6) children. 
Arrest of Shatta Wale and Medikal
Just after the appointment of Dr George Akufo Dampare as the new Inspector General of Police (IGP), controversial dancehall artiste, Shatta Wale was arrested in connection to a false alarm with claims in the news that he had been attacked by unknown men with guns.
Shatta Wale together with two accomplices were arrested, sent to Ankaful Prisons after a day at court, and later granted bail of Ghc100,000. 
Just a day after, AMG Medikal, another rap artiste in the showbiz circle was also arrested for brandishing a gun. 
This arrest called for Ghanaians to raise praises at Dr George Dampare sighting his leadership as a serious one that can be trusted. 
Regional Police Commander returns GH¢200 MoMo bribe
Under the leadership of Dr. Dampare, there seems to be some discipline in police administration.
The Bono East Regional Police Commander has reportedly ordered one of his officers who allegedly admitted to forcibly cashing out GH¢200 from a traveler's MTN Mobile Money account to refund it.
The officer in question was one of those stationed at "Last 2 Barrier" in a town called Yeji in the Bono East Region on September 16, 2021.
Honourable Francis-Xavier Sosu's arrest 
Under the leadership of IGP George Akufo Dampare, the Police have twice tried unsuccessfully to arrest a member of the legislature who represents the Madina constituency in Accra.
Francis-Xavier Sosu became the subject of a tussle between the two institutions following his role in a protest by residents of the Ayi-Mensah, Danfa and Otinibi stretch of the La Nkwantangang-Madina Municipality.
The bone of contention is not the demonstration but rather some developments that arose during the demonstration.
Director of Public Affairs of the Ghana Police Service, ACP Kwesi Ofori on Metro TV's Good Morning Ghana programme of November 1, 2021; explained that Sosu is not being chased by the police for holding an illegal demonstration as widely speculated.
He said that the demonstration on October 25, 2021, had the backing of the police as discussions had already been held on how to go about the
protest.
He revealed that the violence that broke out during the protest is what has occasioned the police to go after Francis-Xavier Sosu who was the leader
of the protest
Rev Isaac Owusu Bempah arrested
He has been commended for enforcing the law by ordering the arrest of the head pastor of the Glorious Word Power Ministries International, Reverend Isaac Owusu Bempah cannot act with impunity just because of their affiliations with political parties.
The man of God was picked up by the police together with his junior pastors who were brandishing a gun in a viral video, threatening the very life of the converted fetish priestess, Nana Agradaa.
Dampare visits night duty officers in North East, Northern Regions
Dr. George Akuffo Dampare and his team on Friday, October 22 visited night barrier and night patrol duty men on the Tamale-Walewale – Bolgatanga road.
He commenced the night visits after seeing to the successful evacuation of three injured police officers and two deceased officers from Tamale to Accra.
During the visits, he listened to the needs and concerns of the personnel and urged them to be professional in the discharge of their duties.
He reminded them to work with integrity and strive to uphold the name of the service at all times.
He assured them that the Police Administration will stand with any officer who does the right thing.
Watch a video on his swearing-in below:
Source: www.GhanaCNN.com
(Photos) Man Undergoes First Successful Heart Transplant From a Genetically Altered Pig
(Photos) Man Undergoes First Successful Heart Transplant From a Genetically Altered Pig
In a first-of-its kind operation, surgeons successfully implanted the heart of a genetically modified pig into a human patient, saving his life after he'd previously been deemed ineligible for a traditional heart transplant.
David Bennett Sr., of Maryland, was safely in recovery from the procedure on Monday, where his doctors from the University of Maryland Medical center have been monitoring his condition.
"It creates the pulse, it creates the pressure, it is his heart," Dr. Bartley Griffith, the director of the cardiac transplant program at the medical center, told The New York Times. "It's working and it looks normal. We are thrilled, but we don't know what tomorrow will bring us. This has never been done before."
The procedure marks the first time a genetically modified animal heart has been transplanted into a human body without immediate rejection, according to UMD.
"It was either die or do this transplant. I want to live. I know it's a shot in the dark, but it's my last choice," Mr Bennett said of the procedure in a statement. "I look forward to getting out of bed after I recover."
The 57-year-old had been in hospital for weeks with a life-threatening heart arrhythmia and only a heart-lung bypass machine was keeping him alive before the procedure. A previous surgery involved putting a pig valve into his heart, but his January operation would take things to a whole new level.
The surgery, conducted on Friday with emergency authorisation from the Food and Drug Administration, could open the door for greater organ access, according to the doctor who performed it.
"This was a breakthrough surgery and brings us one step closer to solving the organ shortage crisis. There are simply not enough donor human hearts available to meet the long list of potential recipients," said Dr Bartley P Griffith in a statement.
Roughly 110,00 people are waiting for organ transplants in the US, and more than 6,000 die each year before they can be matched with an organ donor and brought in for surgery.
Doctors have attempted so-called "xenotransplants" of animal organs into human bodies since the 1980s, but trials featuring entire have largely eased since the case of Stephanie Fae Beauclair, a baby who died a month after receiving a baboon heart to cure a fatal heart condition. Pig heart valves, similar to those in humans, have been used successfully for transplants.
A regenerative medicine company called Revivicor supplied the pig heart for the procedure, using a combination of years of breeding and genetic editing to produce a suitable donor, a 240-pound male standard pig.
The company edited out three genes in the pig's DNA that would've caused a human body to reject the organ, while adding in six human genes that would cause the heart to be accepted.
Once the heart was harvested, it was kept in a special box that supplied it with nutrients and hormones.
Researchers had previously tried using pig hearts in baboons, and were able to keep them alive for months on end, honing which genes played key roles in preventing bodies from rejecting organs.
Source: www.GhanaCNN.com
"I Found Out From My 14-year-old Daughter That My Wife Has Been Cheating On Me For 3 Years" – Man Bursts Into Tears
"I Found Out From My 14-year-old Daughter That My Wife Has Been Cheating On Me For 3 Years" – Man Bursts Into Tears
Agony has struck the life of a Nigerian man who is currently battling with the shock he received from the knowledge of his wife's infidelity.
Seeking an advice from a Twitter influencer and netizens, the young man narrated how his 14-year-old daughter exposed his wife's deeds.
He said his daughter told him that her mother (his wife) has been cheating on him for 3 three years and that the first time she caught a man in bed with her mother was when she was 11 years old.
The depressed young man added that his wife had begged their daughter not to expose her deeds, but luck ran out of her the last time she spent the night outside, with their daughter bringing everything to light.
"Good morning brother. I really appreciate your tweets and ways of handling issues on here. God bless you. I'm in the middle of something that has to do with my wife and I just want a word of encouragement from you, Have been thinking about this since the day before yesterday and all I can say is have lost everything brother.
"The most painful thing about this matter is that it's my 14 years old daughter that narrates everything her mom has being doing to me! Bro FEAR WOMAN being an alpha male or something can not stop that gender from what ever rubbish they have in mind or wanted to do.
"I know you have a lot things in you dm but anytime you come across this pls share with your followers to read and keep me anon.
"I can type much if there is Twitter vn i would have narrates the whole story to you but the bottom line is that my wife cheated on me with another guy and kids know about it but she begged them not tell me then.
"I'm typing with my hand shaking bro and tears. I just need someone i can pour my mind to.
"My daughter saw another guy on my wife can you imagine my daughter is just 11 years then and she did not stop that rubbish not until my daughter called me and explain everything to me on Sunday and what makes her tell me is that she did not come home to sleep because they went to her mom place i mean my mother's in-law place for holiday."
Source: www.GhanaCNN.com
Mother Beats Her 4-Year-Old Girl To Death For Bedwetting
Mother Beats Her 4-Year-Old Girl To Death For Bedwetting
The Enchi District Police have arrested a couple for beating their four-year-old daughter to death for bedwetting.
Francisca Etuteh, who was made to sit on hot water, also broke her arm due to the beating, the Police said.
The suspects, Effah Donaldson, 34, and Salome Oteku, 27, are said to have caned the deceased till she fell unconscious on Tuesday at Yakase in the Aowin Municipality of the Western North Region.
Speaking to Joy News' Augustine Boah, the Enchi Police Divisional Commander, ACP Henry Bacho, said the couple consequently rushed their daughter to the Aowin Community clinic.
However, Francisca died while receiving treatment.
After the report was lodged, ACP Bacho noted that a team was deployed to pick up the suspects for interrogation.
Meanwhile, the body has been deposited at the Enchi Government Hospital for autopsy.
Source: www.GhanaCNN.com