Canadian High Commission Petitioned Over Akufo-Addo's Armed Robbery On Serwa Broni
Canadian High Commission Petitioned Over Akufo-Addo's Armed Robbery On Serwa Broni
Three Ghanaian citizens have petitioned the Canadian High Commission for copies of reports of any possible investigations carried by the Commission on the alleged robbery attack on Evelyn Aidoo aka Serwaa Broni.
The three–Issifu Seidu Kudus Gbeadese, Elikem Kotoko and Stephen Kwabena Attuh– stated in their petition that they have initiated impeachment actions against President Akufo-Addo who is said to have masterminded the robbery attack, and would need the Canadian Mission's evidence to help the process.
"We are minded by your obligations as a Mission representing your country, Canada, as per International Law. We are therefore not inviting you to meddle in the internal security matters and politics of Ghana, but to strictly execute your mandate within the remits of the Vienna Convention on Diplomatic Relations of 1961 and Vienna Convention of Consular Relations of 1963.
"Ghana and Canada are both signatories to the two conventions and same have been domesticated by Ghana in the Ghana Diplomatic Immunities Act, 1962 (Act 148). In this Act, Ghana has accepted in whole, the provisions of the two International Conventions," they stated.
Serwaa Broni is a Canada based lesbian who reveals she had had sexual relations with the president.
Some of the bonking session were recorded in video and also photographed, she reveals and fearing that these dirty files would be released, the president allegedly lured her to Ghana from Canada and used some National security operatives to rob her bags and phones at Dawhenya in Greater Accra, hoping to secure the dirty videos and photos from the bags.
According to Serwaa Broni who made the revelations through personal videos and later through an interview with US based Ghanaian journalist, Kevin Taylor, President Akufo-Addo admitted the offense when she confrointed him in his office and later sent an apology through text.
"In pursuance of our pending petition to the Parliament of Ghana, in which we, The Three Citizens of Ghana, Issifu Seidu Kudus Gbeadese, Elikem Kotoko and Stephen Kwabena Attuh, invoked the authority of the Parliament of Ghana, to initiate an impeachment proceeding against the President of Ghana, H.E Nana Addo Dankwa Akufo-Addo, for breaching his oath of office, by using state power to violate the rights of a Canadian who doubles as a Ghanaian by birth, we wish to solicit for information from your High Commission and assistance to take further action(s).
"It is recalled that, on the 21st of April, 2022, we, the undersigned submitted a petition to the Parliament of Ghana to initiate impeachment proceeding against the President of Ghana, H.E Nana Addo Dankwa Akufo-Addo for allegedly using national security operatives to violate the rights of one Miss Evelyn Aidoo alias Serwaa Broni, a Canadian citizen. Miss Evelyn Aidoo alleged that one Hopeson Adorye, a former Deputy National Security Coordinator in charge of the Airport, was used by the President of Ghana, to stage an armed robbery attack on her, during which her rights to privacy and other related liberties were grossly violated. An allegation Mr. Hopeson Adorye flatly denied in a subsequent interview on Kofi TV, an online TV program (Follow link for full interview: https://fb.watch/cwOHGYRmoF/)," the petitioners wrote.
They added that, "Subsequent to this, Miss Evelyn Aidoo on 17th April, 2022, granted an interview to Loud Silence Media, which is owned and operated by one Kevin Ekow Baidoo Taylor an American-based Ghanaian Journalist ((Follow link for full interview: https://fb.watch/cwOsMTLqXz/). In that interview, Miss Evelyn Aidoo produced an audio recording purported to have been recorded at the Criminal Investigation Department (CID) headquarters at the instance of the then head of CID, Maame Yaa Tiwa Addo-Danquah (Follow Link for specific recording between 1:25:15 and 1:34:23: https://fb.watch/cwPg30pWa2/). In that audio, a voice purported to be that of Hopeson Adorye was heard admitting that he indeed went for the keys to the hotel room of Miss Evelyn; an allegation he flatly denied earlier on Kofi TV as submitted above. This admission, if proven to be his voice, is in sharp contrast to his (Mr. Hopeson Adorye's) earlier denial on same subject matter.
Drawing close inference from these incidents, we can conclude that, the said acts of armed robbery attack staged by Mr. Hopeson Adorye was a grand scheme executed by his National Security outfit, which the President of Ghana chairs. We can further draw inference from these attacks to be in response to Miss Evelyn's threat to release videos and pictures of herself and President Akufo-Addo in compromised positions."
British High Commissioner Has Eagle Eyes #FixTheCountry Convener's Second Arrest
The British High Commissioner to Ghana, Here Excellency Harriet Thompson, has indicated she is keenly following developments around the latest arrest of the Convener of pressure group, #FixTheCountry.
In a tweet on Tuesday, the diplomat said she was looking forward to see how the arrest of Oliver Mawuse Barker-Vormawor's arrest over supposed traffic offence will lead to.
"Oliver Barker Vormawor, convener of #FixTheCountry movement arrested again, I understand for a motoring offence on his way to court. I'll be interested to see where this goes," she tweeted.
Mr. Barker-Vormawor had been arrested on Tuesday for allegedly driving dangerously while on his way to court for hearing on the treason felony charges slapped against him by the Akufo-Addo government.
The rest made news because it was the second time the activist had been arrested by the government.
The earlier arrest had resulted when Mr. Vormawor, a PhD student in the UKA had posted that he would stage a coup in Ghana if the Akufo-Addo government went ahead to approve the thievish e-levy tax.
Many have pointed out that the man had written the words within a literary rather than literal context. Besides, he had threatened the supposed coup on condition.
However, the Akufo-Addo government arrested him anyway.
Minority Asks Prez Akufo-Addo To Stop Declassification Of Achimota Forest As A Reserve
The Minority in Parliament has asked President Akufo-Addo to take a second look at his decision to declassify the Achimota Forest as a reserve.
In a statement signed by Minority Leader, Haruna Iddrisu, the government's decision was described as a dangerous and reckless one which will affect the carbon dioxide presence in the national capital.
"The President should as a matter of urgency take a second look at EI 144 and revoke it as soon as possible. worsen its abuse. Obviously this will negatively affect the carbon dioxide presence in the atmosphere in Ghana's capital city."
President Akufo-Addo on 1st May, 2022 reclassified parts of the Achimota Forest as no longer being part of Accra's only forest belt.
When Ghanaians expressed shock at the decision, Lands Minister, Samuel Abu Jinapor, released a statement claiming it is not the whole forest that has been declassified and that it is just a swathe that has been leased for 99 years to the original owners of the land, the Owoo family.
The minister also sought to drag former President Mahama and Kufuor into the decision by the Akufo-Addo government, saying the Owoo family had initially applied to the Kufuor government which had in principle granted them their request but that the grant was not completed.
The MAHAMA Government then came to continue from where the Kufuor government had begun but could also not complete the process and that the Akufo-Addo government continued from where the Mahama government left off.
But in the Minority's statement, it said the claim by the Ministry is not exactly correct.
"In fact, the Minister in his attempt to seek solace in the calculated actions of the previous NDC government to preserve the forest as a carbon sink, asserts in parts that "On 5th September, 2013, the then President of the Republic, H.E. John Dramani Mahama, gave Executive Approval for the conversion of the Forest Reserve into an Ecotourism Park, and to release the peripheral portions of the Forest Reserve to the Owoo Family, in accordance with the recommendations of the Committee."
""However, because the land remained a Forest Reserve, by virtue of Order 31 of 1930, the lessees and sub-lessees could not develop the land, although they had obtained all the necessary permits."
"Does it not, therefore, go without saying that the leases and sub-lessees could not develop the land because their holders intended developments that were not eco-compatible, as intended by the previous government?
Is it not, therefore, fair to conclude that the purpose of EI 144 is to give the clearance for a free for all kind development of the Reserve now reclassified as part of the Okaikwei North municipality?" the statement asked
It pointed out that in paragraph 7 of his 17th May, 2022 the Lands Minister admits that what was granted the pre-acquisition owners of the land, the Owoo family by the Kufuor government in an agreement dated 28th November, 2008 was the peripheral portions of the Achimota forest reserve totaling 90 acres, for a term of 99 years.
"It was these peripheral portions of the Achimota Forest reserve land that was released in the year 2013 per executed leases to the Owoo family by the government of Ghana, without declassifying the reserve.
"This required the family to observe the forest reserve classification of the main land. Thus the Owoo family by law could only develop or sell the granted peripheral portions (90 acres) for only eco-compatible uses.
"It is therefore befuddling that the Nana/Bawumia government wants us to believe that the reclassified 361 acres of the Achimota Forest reserve land," the statement said.
The Minority added that In deed the previous NDC government under HE President Mahama, signed an agreement with Aikan Capital Ltd to create, develop, operate and maintain a world-class ecological park as a top eco-tourist destination worldwide.
"This and the decision to maintain the whole of the forest as a Reserve was aimed at not only guaranteeing the integrity of the forest but also creating employment opportunities for Ghanaians as well as generating more income for the Forestry Commission.
"Therefore the latest dangerous, reckless and or possible self-seeking decision of the Akufo-Addo/Bawumia Government cannot and should not be misconstrued as a continuation of the previous government's policy."
The Minority worried that the decision to return portions of the Achimota forest to the original owners for other purposes can also trigger pressure from other families from whom government acquired lands in the past to demand return of such lands.
Source: www.GhanaCNN.com
Kejetia Market Built By Mahama Is Needless, It's Causing Traffic In Kumasi – Wontumi Alleges
Kejetia Market Built By Mahama Is Needless, It's Causing Traffic In Kumasi – Wontumi Alleges
Since they all turned to the IMF during their terms as president, Ghana's decision to approach it has sparked a lot of debate regarding who is the best between Mahama and Nana Addo. There have been many things established, and there will be more.
The chairman of Ashanti Regional has been making headlines on the internet with his straightforward and pro-NPP utterances against the NDC, one of which was made at the NPP's delegate conference last year and drew a lot of attention.
Under Nana Addo's leadership, he said, Ghana is superior to the United Kingdom, United States of America, and other European nations. He recently made another statement, which I will provide to you in this piece.
President Mahama, according to Chairman Wontumi. He said, "John Mahama's New Kejetia Market is unnecessary; it is clogging up Kumasi." Because of his reputation for making things like these, many were alarmed and reacted right afterwards.
The Ashanti Region's natives have access to a tranquil trading atmosphere at John Mahama's Market in Kumasi, which has received international recognition as one of West Africa's greatest markets.
Source: www.GhanaCNN.com
Victory For NDC In 2024 Has  Begun As Over One Thousand Party Members Defect to NDC; Sworn-In By Asiedu Nketia -Photos
Victory For NDC In 2024 Has Begun As Over One Thousand Party Members Defect to NDC; Sworn-In By Asiedu Nketia -Photos
Over one thousand members of the Progressive Peoples Party (PPP) have defected to the largest opposition party, National Democratic Congress (NDC) in Wa, Upper West Region.
The defectors were led by the Regional Chairman of the PPP, Adams Osman said they are not happy with the happenings in the PPP and hence joined the NDC which they see as attractive and will better serve their political aspirations.
The swearing-in programme held on Sunday had all constituency and regional executives present at the ceremony.
The defectors were sworn in by the General Secretary of the NDC, Johnson Asiedu Nketia who encouraged other regions to emulate the PPP in the Upper West by joining the NDC.
The PPP was led by Brigitte Dzogbenuku as their presidential candidate back in the 2020 presidential elections.
The party garnered 6,849 representing 0.05% of votes cast.
Source: www.GhanaCNN.com
Fresh Scandal Uncovered: Over $31M COVID-19 Theft At Ministry Of Communications Finally Exposed?; Details Dropped
Fresh Scandal Uncovered: Over $31M COVID-19 Theft At Ministry Of Communications Finally Exposed?; Details Dropped
The compilation of unassailable documents we are reviewing quite painstakingly confirm that for the 2020 and 2021 fiscal years, the Ghanaian taxpayer was saddled with a colossal US$36,061,637.62.
A breakdown of US$31,596,512.12 in 2020 and US$4,465,125.50 in 2021.
The total sum works out to an impressive GHS290million at current exchange.
The Finance Minister opened up to numerous expenditure items far lower than half of this (an example is the infamous serving of packed food which he claimed cost us GHS54million)
Unauthorized Use of Single Source Procurement Method.
In a 27th January, 2021 letter from the Public Procurement Authority (PPA) signed by the then Acting Chief Executive, Mr. Frank Mante — the PPA described the Minister of Communications and Digitalisation's 2020 conduct as an 'unauthorized use of the single source procurement method.'
Ghana's Public Procurement Act, 2003 (Act 663) as Amended with (Act 914) makes adequate provision for how single-source procurement should be carried out in periods of emergency or during catastrophic events, however, none of those provisions were respected.
2020 Cabinet Approval
It is emerging from a letter dated 1st December, 2020 and signed by Deputy Minister for Finance at the time, Hon. Charles Adu Boahen that Cabinet approved only US$8million for the Smart Workplace Project.
It remains a mystery how the Communications Minister defied this Cabinet decision and proceeded to award a US$31.5million contract.
Company Track Record
Our indisputable findings reveal that Smart Infraco Limited had absolutely no track record before being handed the lucrative, albeit illegal contract.
The company was incorporated as recently as 9th October, 2019 – a few months before signing the Smart Workplace sweetheart deal of March 25, 2020.
Nigerian Connection and Domination of Sector
It is disheartening to observe that despite the many celebrated Ghanaian indigenous IT firms which are globally sought after, Smart Infraco Limited with absolutely no track record that measures up with Ghanaian tech companies is the most preferred by government when its promoters and lead directors are Nigerians.
As a Pan Africanist, I would have had no reservations per se, were they a company with a proven track record and basic respect for our procurement laws.
Interestingly, it's lead director, Angela Onwuka who signed the notorious March 25, 2020 Agreement, publicly admits she has no IT background. She claims to be a Fellow of the Institute of Chartered Accountants of Nigeria (ICAN).
Her powerful Nigerian backers led by the ever shadowy and elusive Philip Olaiya now dominate and totally control government contracts in the Ghanaian IT ecosystem. They have recently floated another company known as Ascend Digital Solutions Limited which like Smart Infraco is outsmarting the uninitiated and unconnected. With this new vehicle, they are poised for a firmer grip and an even much bigger lion's share. From the opaque Kelni GVG deal; enhanced e-Government Infrastructure project dated 2nd November, 2020; World Bank US$115million eTransform Ghana Project; to the new Airtel Tigo Ghana Limited and Ascend Digital Solutions JV created to grab the Exim-China/ABSA Bank €164.9million Ghana Rural Telephony and Digital Inclusion Project — a deal we shall discuss in detail another day; the illegal and unpatriotic state capture by abominable proportions ought to be condemned and dismantled.
Final Observations
How many other dubious COVID-19 expenditure items did the Finance Minister conceal from Parliament and the Ghanaian people?
What is the true total COVID-19 expenditure?
When will Government sanction and prosecute its own officials violating our procurement laws with utter impunity?
Parliament's special joint committee of Finance and Health about to forensically probe COVID-19 expenditure has the most crucial mandate in Ghana's entire parliamentary history.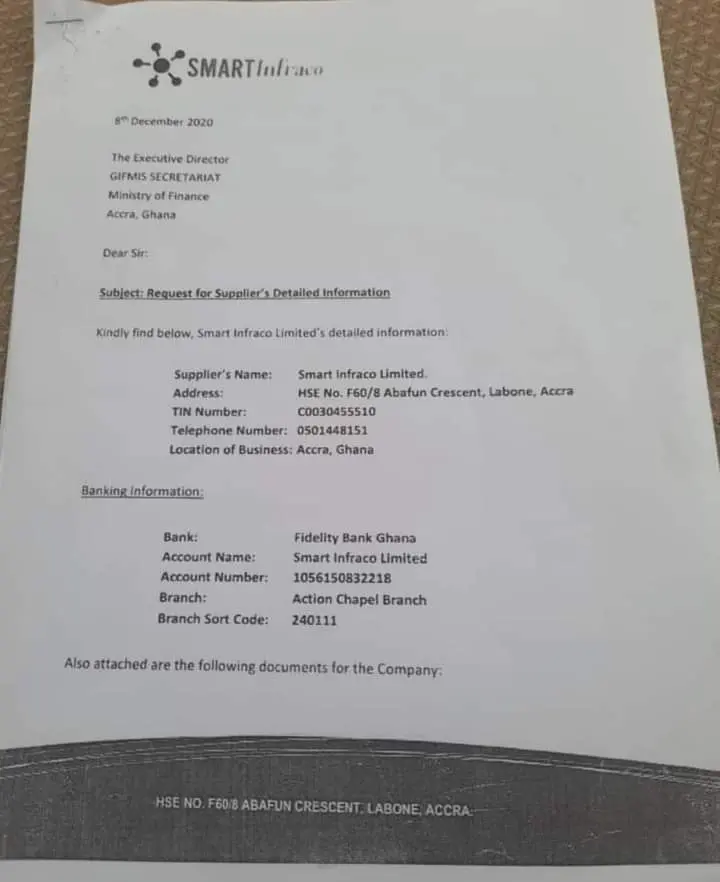 For a government that has initiated prosecution on procurement charges leading to people languishing in jail; a government still prosecuting political opponents for alleged procurement breaches; an Akufo-Addo presidency happy to serve as a willing conveyor belt leading to the removal of an Electoral Commissioner who declared him winner of the 2016 elections — the current developments and countless cases of procurement infractions all make for a fascinating future ahead of us."
It will be recalled that the speaker of parliament agreed to a call by minority to probe all Covid 19 expenditure. He directed the committees on finance and health to carry out the exercise and report back to parliament in October this year.
Source: www.GhanaCNN.com