Fresh Scandal Uncovered: Over $31M COVID-19 Theft At Ministry Of Communications Finally Exposed?; Details Dropped
Fresh Scandal Uncovered: Over $31M COVID-19 Theft At Ministry Of Communications Finally Exposed?; Details Dropped
The compilation of unassailable documents we are reviewing quite painstakingly confirm that for the 2020 and 2021 fiscal years, the Ghanaian taxpayer was saddled with a colossal US$36,061,637.62.
A breakdown of US$31,596,512.12 in 2020 and US$4,465,125.50 in 2021.
The total sum works out to an impressive GHS290million at current exchange.
The Finance Minister opened up to numerous expenditure items far lower than half of this (an example is the infamous serving of packed food which he claimed cost us GHS54million)
Unauthorized Use of Single Source Procurement Method.
In a 27th January, 2021 letter from the Public Procurement Authority (PPA) signed by the then Acting Chief Executive, Mr. Frank Mante — the PPA described the Minister of Communications and Digitalisation's 2020 conduct as an 'unauthorized use of the single source procurement method.'
Ghana's Public Procurement Act, 2003 (Act 663) as Amended with (Act 914) makes adequate provision for how single-source procurement should be carried out in periods of emergency or during catastrophic events, however, none of those provisions were respected.
2020 Cabinet Approval
It is emerging from a letter dated 1st December, 2020 and signed by Deputy Minister for Finance at the time, Hon. Charles Adu Boahen that Cabinet approved only US$8million for the Smart Workplace Project.
It remains a mystery how the Communications Minister defied this Cabinet decision and proceeded to award a US$31.5million contract.
Company Track Record
Our indisputable findings reveal that Smart Infraco Limited had absolutely no track record before being handed the lucrative, albeit illegal contract.
The company was incorporated as recently as 9th October, 2019 – a few months before signing the Smart Workplace sweetheart deal of March 25, 2020.
Nigerian Connection and Domination of Sector
It is disheartening to observe that despite the many celebrated Ghanaian indigenous IT firms which are globally sought after, Smart Infraco Limited with absolutely no track record that measures up with Ghanaian tech companies is the most preferred by government when its promoters and lead directors are Nigerians.
As a Pan Africanist, I would have had no reservations per se, were they a company with a proven track record and basic respect for our procurement laws.
Interestingly, it's lead director, Angela Onwuka who signed the notorious March 25, 2020 Agreement, publicly admits she has no IT background. She claims to be a Fellow of the Institute of Chartered Accountants of Nigeria (ICAN).
Her powerful Nigerian backers led by the ever shadowy and elusive Philip Olaiya now dominate and totally control government contracts in the Ghanaian IT ecosystem. They have recently floated another company known as Ascend Digital Solutions Limited which like Smart Infraco is outsmarting the uninitiated and unconnected. With this new vehicle, they are poised for a firmer grip and an even much bigger lion's share. From the opaque Kelni GVG deal; enhanced e-Government Infrastructure project dated 2nd November, 2020; World Bank US$115million eTransform Ghana Project; to the new Airtel Tigo Ghana Limited and Ascend Digital Solutions JV created to grab the Exim-China/ABSA Bank €164.9million Ghana Rural Telephony and Digital Inclusion Project — a deal we shall discuss in detail another day; the illegal and unpatriotic state capture by abominable proportions ought to be condemned and dismantled.
Final Observations
How many other dubious COVID-19 expenditure items did the Finance Minister conceal from Parliament and the Ghanaian people?
What is the true total COVID-19 expenditure?
When will Government sanction and prosecute its own officials violating our procurement laws with utter impunity?
Parliament's special joint committee of Finance and Health about to forensically probe COVID-19 expenditure has the most crucial mandate in Ghana's entire parliamentary history.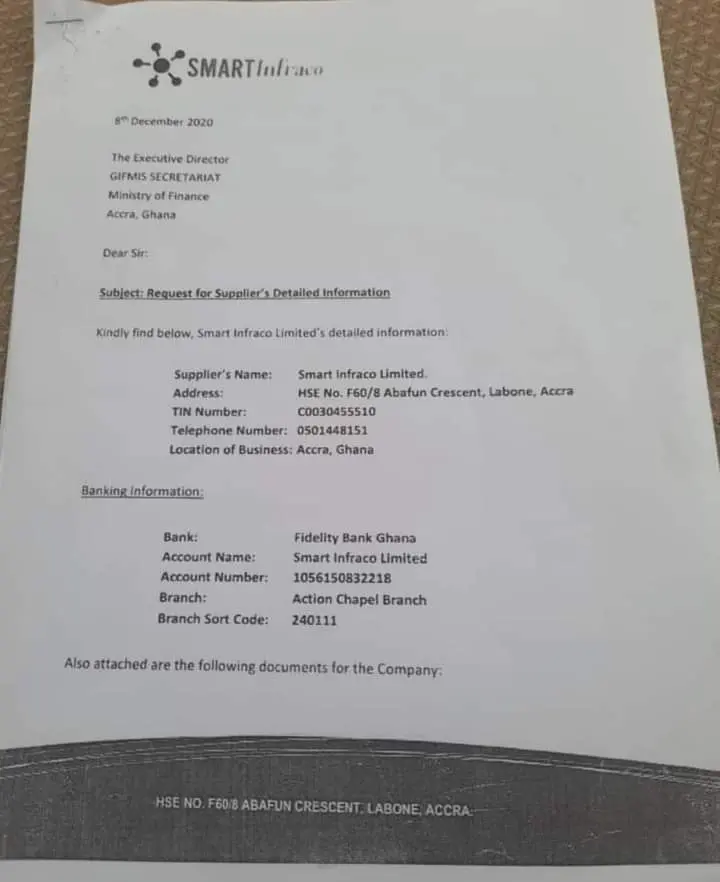 For a government that has initiated prosecution on procurement charges leading to people languishing in jail; a government still prosecuting political opponents for alleged procurement breaches; an Akufo-Addo presidency happy to serve as a willing conveyor belt leading to the removal of an Electoral Commissioner who declared him winner of the 2016 elections — the current developments and countless cases of procurement infractions all make for a fascinating future ahead of us."
It will be recalled that the speaker of parliament agreed to a call by minority to probe all Covid 19 expenditure. He directed the committees on finance and health to carry out the exercise and report back to parliament in October this year.
Source: www.GhanaCNN.com
I Am Not A Prophet, But This Will Happen In 2024 Election – Twene Jonas Drops Good News For NDC Ahead Of Elections
I Am Not A Prophet, But This Will Happen In 2024 Election – Twene Jonas Drops Good News For NDC Ahead Of Elections
Social media influencer and political activist Twene Jonas was on fire today following his Facebook live. He is known as one of the social media commentators who always seek for better Ghana.
Twene Jonas speaking has dropped another prophecy ahead of the 2024 election. According to him, he is not a prophet but this will happen in the 2024 election. The New Patriotic Party will lose the election as a consequence of Nana Addo's failure in power. He has really disappointed Ghanaians and the majority of NPP supporters will vote against the party.He outlines the reasons why the Nana Addo government has failed.

Firstly, Nana Addo promised to eliminate corruption. After getting the power to lead the country he is even fuelling the corruption in the country. He failed to allow the law to deal with his appointees who are involved in corruption scandals.

He said in his campaign we are sitting on money and we don't have to feel hungry. Promised to stabilize the economy but now things are beyond the country. He vowed not to visit IMF but now he is running to seek financial help.

He promised to reduce the unemployment rate in the country by creating jobs. After he established NABCO Ghanaians thought he is on the path to reducing unemployment not knowing it was a scam to get more votes. All this shows that NPP has nothing better to offer the country and Ghanaians need someone else.
Source: www.GhanaCNN.com
JUST IN: Bloomberg Exposes Akufo Addo's Government On IMF Bailout; Changes Loan Target From 2 Billion
JUST IN: Bloomberg Exposes Akufo Addo's Government On IMF Bailout; Changes Loan Target From 2 Billion
The government will be looking at receiving an amount of $3 billion over three years from the International Monetary Fund (IMF) once an agreement on a programme is reached.
This is according to international news agency, Bloomberg.
The portal reported on its website that the new amount requested as a loan was double the government's initial target of $1.5 billion.
"Ghana's government is in talks over a loan of about $3 billion from the International Monetary Fund, according to two people familiar with the matter.
"The amount is double what the West African nation was considering a month ago as it tries to shore up its finances and win back access to global markets. The funding would be provided over three years, the people said, asking not to be identified because the talks are still in progress and public announcements have not been made. Calls to a finance ministry spokeswoman didn't connect," Bloomberg added.
An IMF emailed response to the news outlet also indicated that it was to early to comment on the subject, maintaining that the Executive Board of the Bretton Woods institution ultimately wielded power in determining the programme for Ghana.
"Since negotiations for the program are starting now, it's too early to comment on the final form the program will take.
"The Extended Credit Facility for low-income countries is the Fund's main tool for medium-term support for countries facing protracted balance of payments problems, similar to Ghana's. The duration of such an arrangement is between three to four years, and extendable to five years. The final program is ultimately decided by the IMF's Executive Board," an IMF spokeswoman told Bloomberg.
It will be recalled that the government on July 1 made a U-turn on its strong position of not seeking support from IMF amid an economic downturn.
A team from the IMF arrived in the country on July 6 and engaged Ghanaian authorities for a programme aimed at restoring macroeconomic stability and safeguarding debt sustainability among many others.
Government has continuously maintained that it will negotiate a good deal with IMF.
On Friday, August 5, American credit rating agency, Standard and Poor's (S&P) Global Ratings pushed Ghana's debt further into speculative territory, lowering its foreign and local currency sovereign ratings to CCC+/C from B-/B.
According to a report by marketwatch.com, S&P said its outlook for the country remains negative, "reflecting Ghana's limited commercial financing options, and constrained external and fiscal buffers."
S&P which is one of the 'Big Three' credit-rating agencies, including Moody's Investors Service and Fitch Ratings, in their report stated that the "Covid-19 pandemic and the conflict in Russia have magnified Ghana's fiscal and external imbalances."
"There is also demand for foreign currency that has been driven higher by several factors, including nonresident outflows from domestic government bond markets, dividend payments to foreign investors and higher costs for refined petroleum products," the report added.
Source: www.GhanaCNN.com
I Doubt You Are Mills' Brother…Your Language "Stinks"- Lawyer Ampaw Slams Samuel Atta Mills
I Doubt You Are Mills' Brother…Your Language "Stinks"- Lawyer Ampaw Slams Samuel Atta Mills
Lawyer Maurice Ampaw has taken Hon. Samuel Atta Mills to the cleaners following his accusations that the government of President Akufo-Addo has used his late brother's remains for rituals.
The Member of Parliament for Komenda Edina Eguafo Abrem told that press that he believes the remains of the late former President John Evans Atta Mills, has been used for rituals by the current government.
But Lawyer Maurice Ampaw, slammed Hon. Samuel Atta Mills by describing him as someone who speaks language that "stinks".
He pointed out that the statement from the MP were an insult and an attack on the integrity of government without evidence.
Addressing the issue on Wontumi TV's Mmra Ne Abrabo Mu Nsem show, Lawyer Ampaw praised the late former President John Mills as someone who was courteous and spoke with wisdom and humility in his interaction with people but was quick to add that his brother Samuel Mills utterances, were stark contrast to him.
"I doubt Atta Mills' blood is in his brother. He is the opposite of him and his language stinks", Lawyer Ampaw said.
He insisted that "wherever the ghost of Mills is, he would be crying" about his brother's behavior.
Source: www.GhanaCNN.com