Meet The 47-Year-Old Man Whose Bones Break Like Glass
Meet The 47-Year-Old Man Whose Bones Break Like Glass
We should always like the unknown, ironically, we have to familiarise ourselves with the uncertainties of life. Life can change at any moment of the day but God can change the fate of any moment on any day. We should know for a fact that anything changes and not remain the same forever.
Life and living it can sometimes be such threatening that many of us and I mean most of us are left with no option but to end it all with the aim of escaping the uncertainties of life. Ironically, nothing is compulsory in this life; not even death.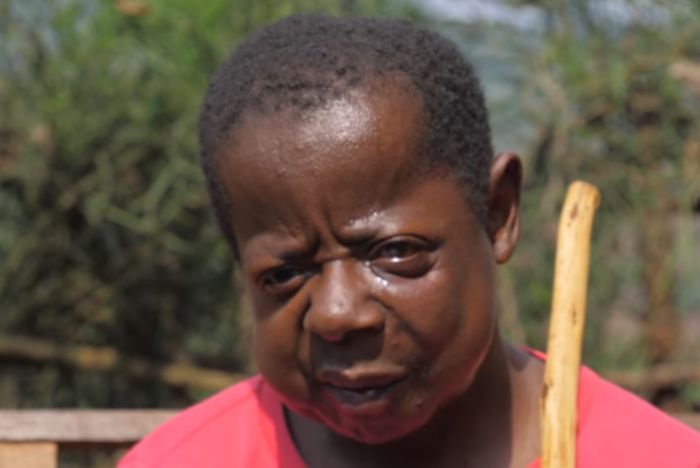 My name is Rebecca Bantie, a nursing training student at the Wa Nursing Training College, Wa and I write with a song on my lips and empathy coursing through my veins to inspire, the instinct to conquer, ambition to lift and educate, inform, and knock on the door of your problems, letting it know that you have inspiring stories to read and learn from.
Meet the 47-year-old man who was born somewhere in 1974 and goes by the name Sibamona Aloys suffering from a group of inherited disorders characterized by fragile bones that break easily known medically as Osteogenesis imperfecta. Osteogenesis imperfecta is caused by defective genes. These genes affect how the body makes collagen, a protein that helps strengthen bones.
Aloys as called says he was born with mental illness and while growing up he knew how to manage the said mental disorder until another group of inherited disorders also added to his woes.
Growing up in a poor family, Aloys was strong and could do any activity that could earn him money but as he grew his body also grew in pain and for him to still be alive is by God's grace. Now he has not been able to work to provide for himself. He added that the house in which he lives now was even provided by the community.
Aloys has a problem where his bones are always coming out of his body, his head is not that strong that a fall can cause his brain damage, and when he coughs blood comes out from his mouth and nose when he sneezes. According to him, he takes medication daily as a failure on a daily basis can even render him blind.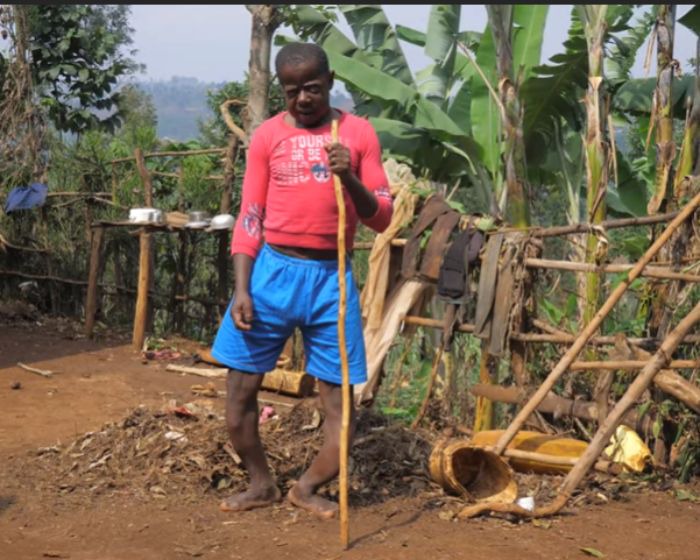 Doctors examined Aloys and made it known to him that he was born with cancer. At first, he has all wounds on his face and he went into transformations that surprised him. After several visits o the hospital, Aloys became financially unstable and couldn't meet up with medical appointments with the doctors.
Due to this condition, he is afraid of going anywhere apart from home because he might hurt himself by so doing and he is banned from moving out when it at night because when he falls he stands a greater chance of losing a bone thus breaking his bone.
This to shall pass is a passion adage used that reflects on the temporal nature of the human condition. Nothing in this world lasts forever, a current situation no matter how horrible it is will not last forever.
Source: www.GhanaCNN.com
Tiffany Denise Hobbs Biography, Education, Age, Net Worth, Career
Tiffany Denise Hobbs Biography, Education, Age, Net worth, Career
Tiffany Denise Hobbs is a beautiful actress, dancer, model, and singer best known for her role in movies such as "Ozark," "Atlanta" and "The Trial of the Chicago 7. She had a passion for dancing and acting since her childhood. Her acting skills drove her to recognition in the Hollywood movie industry. It has landed her features in various TV shows as well.
In this post, I will bring you more information on Tiffany Denise Hobbs biography, education, career, age, net worth, zodiac sign, and more, but before then, here is a profile summary of Tiffany Denise Hobbs.
Tiffany Denise Hobbs Career
Tiffany started with dancing by attending a ballet school; she later moved on to join a fine arts school. Her passion for acting, drama, and music grew as she made constant progress. She joined a community of dancers, including creative impressions, ballet, and mini-theatre. In 2008, Tiffany was selected to study theater at the Yale School of drama in the summer.
She was a vocal soloist and a dancer for Cedar Point amusement park in Sandusky, Ohio. In 2007 she won the Miss University of George pageant and was the second runner-up in the 2008 and 2009 editions. From being Miss Black and Gold at UGA, she became Miss black and gold Georgia and was the first runner-up at Miss Black and Gold south-east in 2009.
Having trained for over two decades at the prestigious University with performances in different art institutions and spent most of her time on sets or in a rehearsal room, she had gathered enough experience to boost her career.
Below are some of the roles Tiffany has played in movies;
Juanita in James Baldwin's "Blues for Mister Charlie"
Beatrice in Shakespeare's "Much Ado about nothing."
Tonia in August Wilson's "King Hedley 2"
She used to be a member of the Brierley Resident Acting Company in the Dallas theater center, and she has also appeared in the national tour of "The Lion King" for two years. As Shenzi. She was also part of the cast in Donald "Atlanta" on Netflix and "Ozark." She's also featured in a Broadway musical called Waitress.
Tiffany Denise Hobbs Education
Tiffany Dennis Hobbs started dancing at Carol Carlson ballet School of which she later joined the selective John S Davidson fine arts magnet school, and from there, her interest in music and dance began to grow.
She also volunteered for aid acting Aids Athens and served as president of Alpha b Omega in the national theater of fraternity.
You can check out her Instagram handle @Tiffany Denise Hobbs or follow her Twitter handle @TiffanyDhobbs to see her recent post or retweet her post on Twitter. Her Facebook page is also available on Tiffany Denise Hobbs.
Tiffany Denise Hobbs Family
There's no detailed information about her, parents, or family for now except that she mentioned how supportive her parents have been, and she talked about having a sister and a brother without mentioning names.
Tiffany Denise Hobbs Net worth
Tiffany Denise Hobbs's net worth is estimated at 1 million dollars. With all the potential she has showcased, we can say that she has acquired a lot in her career journey, using her net worth as a yardstick.
Tiffany Denise Hobbs Birthday, Age
She was born on the 17th day of July 1987, and as of the time, she is 35 years old, still looking young and making trends in her field.
Source: www.GhanaCNN.com
Sarah Gadon Biography, Age, Husband, Movies, Net Worth
Sarah Gadon Biography, Age, Husband, Movies, Net Worth
Who is Sarah Gadon?
Sarah Gadon is a Canadian actress and she started acting at a very young age. She has starred in a lot of hit movies however, the movie that brought her to the limelight is A Dangerous Method and Belle, a movie directed by David Cronenberg and produced by Jeremey Thomas.
Sarah Gadon Biography
Sarah Gadon was born on April 4, 1987, in Toronto Ontario, Canada to Michael and Linda Gadon. Her father was a psychologist while her mom Linda was a Teacher and she has an elder brother named James.
While growing up , Sarah Gadon soent her childhood and her pubescence in a lot of various art schools and when she was aged five, she was enrolled in the National Ballet, and there she exautsed her childhood, futhermore she became a student at Claude Watson school for the performing art.
She grafuated as an erudte from Vaughan Academy in the year 2005 and by 2014 she had concluded her academic phase after convocating from the varsity of Toronto's Cinema studies institue at innis college.
Sarah started acting when she was just 10 and her first role was in the movie titled La Femme Nikita and she only had time to take up positions due to her parents demand. After her role in La Femme Nikita, she also acted in movies like Are You Afraid of the Dark, and Twice in a Lifetime where she played the role of Young Laura Burnham. She was also featured in the Marvel hit movie titled Mutant X where she played the role of Catherine Hartman, thrillng.com gathered.
Sarah Gadon Husband
Sarah Gadon's relationship status is currently unknown however, she was previously in a relationship with Canadian film director and editor Matthew Hannam.
Sarah Gadon Movies
Since her debut, Sarah has appeared in more than eighty movies which several of them brought around accolades such as The canadian screen award. Some of the most popular movies she has featured in include Letterkenny and other movies she has featured in include:
Codebreakers
Flashpoint
Dracula Untold
The amazing spiderman-2
Codebreakers
Sarah Gadon Instagram
Sarah Gadon is very active on Instagram and she has more than 100k followers. She uploads photos of herself on adventures and also photos of nature.
Sarah Gadon Net worth
As a top actress who has been in the game for a long time, Sarah has amassed a lot of money. Her estimated net worth is $1million with most of her income coming from her acting career.
Source: www.GhanaCNN.com
Brunella Oscar Biography, Age, Husband, State of Origin, Net worth
Brunella Oscar Biography, Age, Husband, State of Origin, Net worth
Brunella Oscar and Williams Uchemba made the headlines last month when the two tied the knot in a beautiful wedding ceremony.
As for Williams Uchemba, you may already know him, but if you don't read this. We will write about Williams Uchemba's wife's biography for this post. So let's jump right in.
Who is Brunella Oscar?
Brunella Oscar is a Physician at Hull York Medical who lives in England but hails from Anambra State, Nigeria. However, she is best known as the wife of a famous Nigerian actor, Williams Uchemba.
She got married to Williams on November 15th, 2020, and like with getting married to a celebrity, Brunella now has some media attention. So let's look at Brunella Oscar's biography, age, marriage, career, and net worth. Before that, let's look at her profile.
Brunella Oscar Biography
Brunella Chinelo Oscar was born on April 20th, 1992, into the family of Mr. and Mrs. Oscar Nwaolisa, who hails from Alor, a town in Idemili, South of Anambra State. She grew up outside Nigeria. She has a brother and two sisters. She is from Igbo, her state of origin.
Brunella attended Scuola Media Giancarlo Siani and Cowley Language College and obtained a Bachelor's Degree in Biomedical Science from Anglia Ruskin University.
In 2018, she graduated from Hull York Medical School with a Master's Degree. While celebrating her birthday, Williams revealed that at some point, Brunella suspended her Medical career so he could help him build his career.
Brunella Oscar Marriage
Williams Uchemba is Brunell Oscar's husband. They married on November 15, 2020, at a traditional wedding and then had a white wedding on November 21.
William first announced his engagement to Brunella Oscar on Saturday, October 31, 2020, via his Instagram page.
How did Williams Uchemba and Brunella Oscar meet? We have a story from Brunella.
On November 22, 2016, Brunella Oscar was surfing through Facebook randomly and landed on a video of Williams Uchemba doing his usual gospel preaching and advising young people. She was hooked on watching the video. Thirty seconds into the 15 minutes video, she heard a voice say, "This is your husband."
Then, Brunella had no idea who Williams was; she had never even heard of his name before, but she felt the urge to send him a message on FB messenger to appreciate him for his video.
She didn't overthink it because she assumed that Williams was a motivational speaker. Excited, Brunella went to school the next day and told friends she had met her husband, but they thought she was crazy.
At the time, she had just started her MSc. Degree at Hull York 2 months ago. The parody page was connected to Williams, who later sent a reply. Wiliams sent her a reply on November 23, 2016, and he asked her where she was from.
One thing led to another, and a relationship between them began.
They video-called regularly and got to know each other more, which was fun and easy because they felt like we'd known each other for 10 years or more.
Source: www.GhanaCNN.com