National Cathedral: Adjaye Will Pay Back Every Money Given Him If NDC Wins Power – Ablakwa
National Cathedral: Adjaye Will Pay Back Every Money Given Him If NDC Wins Power – Ablakwa
The MP for North Tongu, Samuel Okudzeto Ablakwa, says a future NDC government will make sure consultant to the National Cathedral project, Sir David Adjaye refund controversial payments made to him by the state.
The Minority in Parliament demanded answers from Finance Minister, Ken Ofori-Atta for releasing GHC25 million to the National Cathedral Secretariat as additional seed money without Parliamentary approval.
The NDC MPs questioned the basis for the release since no such allocation was made in the 2022 budget approved by parliament adding the move is a grand deception.
Speaking to Parliamentary Correspondent, Ibrahim Alhassan, Mr. Ablakwa stated that the project consultant, Mr. Adjaye will be made to pay back the monies as a result of procurement breaches.
"He himself should know there will be judgment day and all that money in his possession, a time will come that he will have to refund that money. Because the procurement processes are all fraud, I mean very ridiculous interpretation and abuse of the procurement processes," he added.
The lawmaker also asked Ghanaians to start making inputs into what use the land hosting the project should be put to if the NDC comes to power.
According to the MP, the deceit, procurement breaches, opacity and outright lies which have characterized the project are enough grounds for impeachment of the President.
Minority spokesperson on Foreign Affairs further stated that President Akufo-Addo cannot complete the project by the 2024 deadline he has given himself.
"I believe that the National Democratic Congress will be winning the 2024 election and we will want to hear clearly from the Ghanaian people what we should be thinking on what we should use the site for.
"Already there has been a lot of destruction, a lot of damage, a lot of demolition and so much money has gone into all kinds of pockets. It appears that a little has gone into the project. The question, therefore, is what do we do?" he quizzed.
Source: www.GhanaCNN.com
Kejetia Market Built By Mahama Is Needless, It's Causing Traffic In Kumasi – Wontumi Alleges
Kejetia Market Built By Mahama Is Needless, It's Causing Traffic In Kumasi – Wontumi Alleges
Since they all turned to the IMF during their terms as president, Ghana's decision to approach it has sparked a lot of debate regarding who is the best between Mahama and Nana Addo. There have been many things established, and there will be more.
The chairman of Ashanti Regional has been making headlines on the internet with his straightforward and pro-NPP utterances against the NDC, one of which was made at the NPP's delegate conference last year and drew a lot of attention.
Under Nana Addo's leadership, he said, Ghana is superior to the United Kingdom, United States of America, and other European nations. He recently made another statement, which I will provide to you in this piece.
President Mahama, according to Chairman Wontumi. He said, "John Mahama's New Kejetia Market is unnecessary; it is clogging up Kumasi." Because of his reputation for making things like these, many were alarmed and reacted right afterwards.
The Ashanti Region's natives have access to a tranquil trading atmosphere at John Mahama's Market in Kumasi, which has received international recognition as one of West Africa's greatest markets.
Source: www.GhanaCNN.com
Victory For NDC In 2024 Has  Begun As Over One Thousand Party Members Defect to NDC; Sworn-In By Asiedu Nketia -Photos
Victory For NDC In 2024 Has Begun As Over One Thousand Party Members Defect to NDC; Sworn-In By Asiedu Nketia -Photos
Over one thousand members of the Progressive Peoples Party (PPP) have defected to the largest opposition party, National Democratic Congress (NDC) in Wa, Upper West Region.
The defectors were led by the Regional Chairman of the PPP, Adams Osman said they are not happy with the happenings in the PPP and hence joined the NDC which they see as attractive and will better serve their political aspirations.
The swearing-in programme held on Sunday had all constituency and regional executives present at the ceremony.
The defectors were sworn in by the General Secretary of the NDC, Johnson Asiedu Nketia who encouraged other regions to emulate the PPP in the Upper West by joining the NDC.
The PPP was led by Brigitte Dzogbenuku as their presidential candidate back in the 2020 presidential elections.
The party garnered 6,849 representing 0.05% of votes cast.
Source: www.GhanaCNN.com
Fresh Scandal Uncovered: Over $31M COVID-19 Theft At Ministry Of Communications Finally Exposed?; Details Dropped
Fresh Scandal Uncovered: Over $31M COVID-19 Theft At Ministry Of Communications Finally Exposed?; Details Dropped
The compilation of unassailable documents we are reviewing quite painstakingly confirm that for the 2020 and 2021 fiscal years, the Ghanaian taxpayer was saddled with a colossal US$36,061,637.62.
A breakdown of US$31,596,512.12 in 2020 and US$4,465,125.50 in 2021.
The total sum works out to an impressive GHS290million at current exchange.
The Finance Minister opened up to numerous expenditure items far lower than half of this (an example is the infamous serving of packed food which he claimed cost us GHS54million)
Unauthorized Use of Single Source Procurement Method.
In a 27th January, 2021 letter from the Public Procurement Authority (PPA) signed by the then Acting Chief Executive, Mr. Frank Mante — the PPA described the Minister of Communications and Digitalisation's 2020 conduct as an 'unauthorized use of the single source procurement method.'
Ghana's Public Procurement Act, 2003 (Act 663) as Amended with (Act 914) makes adequate provision for how single-source procurement should be carried out in periods of emergency or during catastrophic events, however, none of those provisions were respected.
2020 Cabinet Approval
It is emerging from a letter dated 1st December, 2020 and signed by Deputy Minister for Finance at the time, Hon. Charles Adu Boahen that Cabinet approved only US$8million for the Smart Workplace Project.
It remains a mystery how the Communications Minister defied this Cabinet decision and proceeded to award a US$31.5million contract.
Company Track Record
Our indisputable findings reveal that Smart Infraco Limited had absolutely no track record before being handed the lucrative, albeit illegal contract.
The company was incorporated as recently as 9th October, 2019 – a few months before signing the Smart Workplace sweetheart deal of March 25, 2020.
Nigerian Connection and Domination of Sector
It is disheartening to observe that despite the many celebrated Ghanaian indigenous IT firms which are globally sought after, Smart Infraco Limited with absolutely no track record that measures up with Ghanaian tech companies is the most preferred by government when its promoters and lead directors are Nigerians.
As a Pan Africanist, I would have had no reservations per se, were they a company with a proven track record and basic respect for our procurement laws.
Interestingly, it's lead director, Angela Onwuka who signed the notorious March 25, 2020 Agreement, publicly admits she has no IT background. She claims to be a Fellow of the Institute of Chartered Accountants of Nigeria (ICAN).
Her powerful Nigerian backers led by the ever shadowy and elusive Philip Olaiya now dominate and totally control government contracts in the Ghanaian IT ecosystem. They have recently floated another company known as Ascend Digital Solutions Limited which like Smart Infraco is outsmarting the uninitiated and unconnected. With this new vehicle, they are poised for a firmer grip and an even much bigger lion's share. From the opaque Kelni GVG deal; enhanced e-Government Infrastructure project dated 2nd November, 2020; World Bank US$115million eTransform Ghana Project; to the new Airtel Tigo Ghana Limited and Ascend Digital Solutions JV created to grab the Exim-China/ABSA Bank €164.9million Ghana Rural Telephony and Digital Inclusion Project — a deal we shall discuss in detail another day; the illegal and unpatriotic state capture by abominable proportions ought to be condemned and dismantled.
Final Observations
How many other dubious COVID-19 expenditure items did the Finance Minister conceal from Parliament and the Ghanaian people?
What is the true total COVID-19 expenditure?
When will Government sanction and prosecute its own officials violating our procurement laws with utter impunity?
Parliament's special joint committee of Finance and Health about to forensically probe COVID-19 expenditure has the most crucial mandate in Ghana's entire parliamentary history.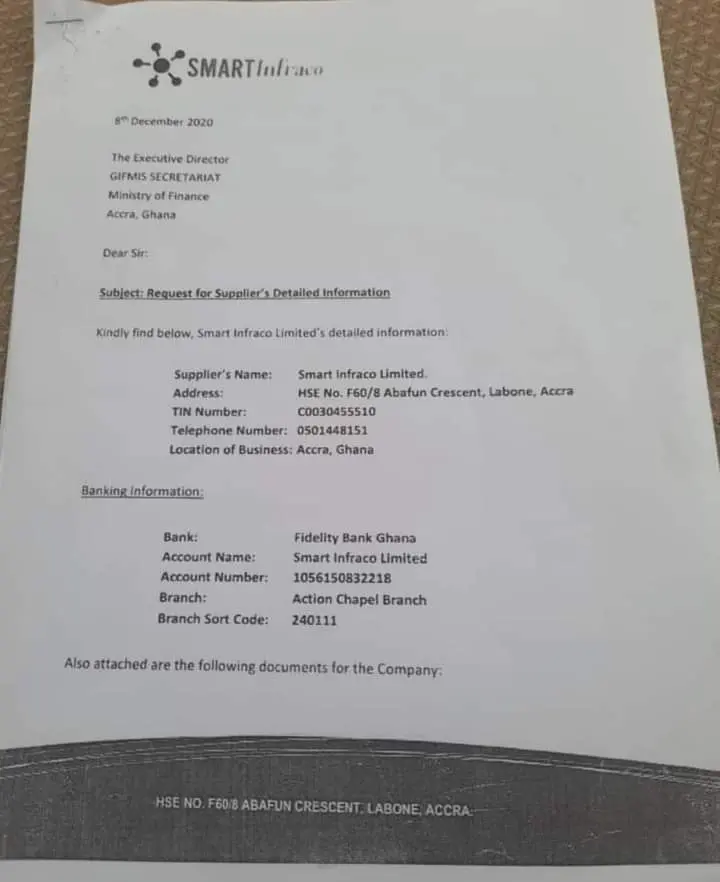 For a government that has initiated prosecution on procurement charges leading to people languishing in jail; a government still prosecuting political opponents for alleged procurement breaches; an Akufo-Addo presidency happy to serve as a willing conveyor belt leading to the removal of an Electoral Commissioner who declared him winner of the 2016 elections — the current developments and countless cases of procurement infractions all make for a fascinating future ahead of us."
It will be recalled that the speaker of parliament agreed to a call by minority to probe all Covid 19 expenditure. He directed the committees on finance and health to carry out the exercise and report back to parliament in October this year.
Source: www.GhanaCNN.com