NPP attempted rigging the polls; everything shows NDC is winning this election – Sammy Gyamfi
Sammy Gyamfi said everything happening in the ongoing election shows that the party will emerge victorious.
The NDC's John Dramani Mahama is aiming to unseat NPP flagbearer and incumbent President, Nana Akufo-Addo. Speaking at a press conference on Monday, Mr. Gyamfi accused the ruling NPP of attempting to rig the polls.
"You have seen incontrovertible, indisputable evidence that shows the NPP is engaging in ballot stuffing, not only in the Ashanti region but in other parts of the country," he said.
"It's happening in Greater Accra. As a matter of fact, just Circle here, it's been widely reported by the media that a lady was arrested with ballot papers which had already been thumb-printed and stamped."
He added: "We are winning this election, everything shows that we are winning this election. We have just one hour and 30 minutes to go and we need the corporation of all our supporters."
Ghanaians across the country voted to elect a President and Members of Parliament (MPs).
Voting closed at 5:00pm.
Source: GhanaCNN.com
Sack Agric Minister Because He Has Run Out Of Ideas – Kofi Akpaloo Tells Akufo-Addo
Sack Agric Minister Because He Has Run Out Of Ideas – Kofi Akpaloo Tells Akufo-Addo
The founder and leader of the Liberal Party of Ghana (LPG), Percival Kofi Akpaloo has doubted the ability of Agriculture Minister Dr. Owusu Afriyie Akoto to manage the government's flagship Planting for Food and Jobs programme.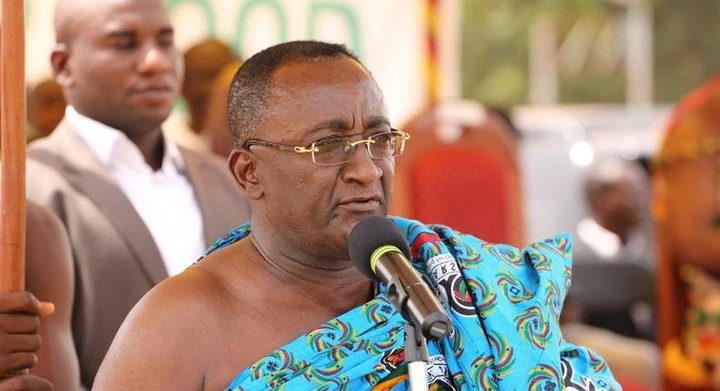 He argued the sector minister has run out of ideas to add any progress to the development of the agricultural sector.
"There was a major problem with the prices of the raw materials, especially maize and soybean. Maize for instance went up by 100% and then wheat and soybean all went up. Why must we import frozen chicken and maize whiles we can grow some in Ghana?" he asked.
"President Akufo-Addo has relieved him of his post," Kofi Akpaloo said on Accra-based Angel FM.
He further revealed that the minister for Agriculture has disobeyed the president's directives to them to save the local poultry industry.
President Nana Addo Dankwa Akufo-Addo has often touted the progress of the planting for food and jobs programme alluding to the feat it has achieved.
This, he said, is a complete misapplication of the subsidies.
He believes it would only be proper if the sector minister is relieved of his position.
Source: www.GhanaCNN.com
NDC Will Struggle To Win 2024 Elections Without Me As Flagbearer – Kojo Bonsu
NDC Will Struggle To Win 2024 Elections Without Me As Flagbearer – Kojo Bonsu
A presidential hopeful for the opposition National Democratic Congress (NDC), Kojo Bonsu, has said that the party will struggle to secure victory in the general elections of 2024 if his face is not on the ballot paper.
According to him, Ashanti members of the NDC have not had the opportunity to lead the party into an election before, and as such, his election as the flagbearer will attract a lot of voters from the region to cast their votes from him.
Kojo Bonsu also explained that it has not been easy serving as a member of the NDC, especially in the Ashanti Region, for obvious reasons, but he has continuously stood his ground and worked hard to ensure the party becomes more attractive in the region.
Speaking in an interview with Kumasi-based Oyerepa TV and monitored by GhanaWeb, the former Mayor of Kumasi observed that although "data has shown that Ashantis predominantly vote for the NPP," his election as a flagbearer will bring a "new era to the party (NDC).
"If I become the flagbearer of the party, the NDC will secure a lot of votes in the Ashanti region. This means I will break the monopoly and split the votes NPP secures in the region. Even today, the market women at Central Market and Kejetia Market are all supporting my presidential bid. The women have said that if I become the leader of the party, they will all vote for me.
"So, if they (delegates) refuse to elect me as flagbearer, it means the number of votes we are expecting to win the 2024 elections will decline because Ashantis won't vote for any other NDC candidate but me. Without me as flagbearer, it will be very difficult for the party to win the elections, but if I am the flagbearer, the Ashantis will know that I am one of their own, and they will vote for me," he told the morning show host, Kwesi Parker-Wilson.
The former football administrator also revealed that former President John Agyekum Kufuor once asked him to step down for John Dramani Mahama to lead the NDC into the 2020 elections.
He added that it was the reason he pulled out from that race.
"Former President Kufuor advised me to stay away from the contest and allow John Mahama to run because he has been fully marketed. He also told me that this is not my time and soon my time will come, so I listened to him and pulled out of the race," he added.
Kojo Bonsu, however, admitted that he is yet to consult the former president on his latest attempt at the flagbearer position of the NDC but has stated that he is convinced that no amount of persuasion will compel him to back down on his quest to lead the party into the 2024 elections.
Source: www.GhanaCNN.com
Politics Of Insult Is Not Healthy, I Don't Engage In It – KT Hammond
Politics Of Insult Is Not Healthy, I Don't Engage In It – KT Hammond
Member of Parliament for Adansi-Asokwa Constituency in the Ashanti Region has denounced politics of insult as unhealthy and as such we will never involve himself in it.
According to him, the recent booing of President Nana Akufo-Addo the Global Citizens Festival is condemnable and should not be encouraged.
The lawmaker who was speaking on Accra-based Joy FM said, the youth must at all-times demonstrate respect toward people in authority.
Citing himself as an example, he said he has never used insulting language or engaged in politics of insult in his political career.
While admitting he could be critical of his opponent, insults is not part of what he will use as tool in putting out his grievances.
He said it is wrong to insult leaders and such acts should not be encouraged.
"It doesn't matter if it was Akufo-Addo president or John Mahama President. John Mahama President, I have never in my life said anything insulting about John Mahama. I don't do that.
I am a different person. I don't believe it is proper. I can take on the NDC I can take on …how much criticism have you hear me make of the NDC administration and all of that? I don't insult personalities.
"I don't believe that is the way politics should run. NDC administration is a bogus administration and that is that… it is unthinkable that I will at any point in time say it is appropriate to hoot at a president. He is the figure head," KT Hammond said.
He added that," I don't think I will ever boo John Mahama when he becomes president again. When he was, I never insulted him.
"As I speak right now, John is my good friend. I have many friends in the NDC. It doesn't cost much to respect.
The President was heckled at the Global Citizens Festival last week in Accra.
The act has been condemned by members of the ruling New Patriotic Party while the opposition NDC say the act is as a result of hardship in the country.
Source: www.GhanaCNN.com