See What Armed Robbers Storm Lady's House To Do; Leaves Behind Something That Got The Public Shocked and Talking -WATCH
See What Armed Robbers Storm Lady's House To Do; Leaves Behind Something That Got The Public Shocked and Talking -WATCH
We leave at a time when we learn something new every day, and it looks like thieves are getting smarter by the day.
A lady with the social media handle sisi-icecream shared on Twitter what happened in her home while she was sleeping.
A lady wowed social media users after she shared her experience with robbers that robbed her in her house at night. She said thieves robbed her and almost emptied her house, making away with her valuables, even though her dog did not bark at them.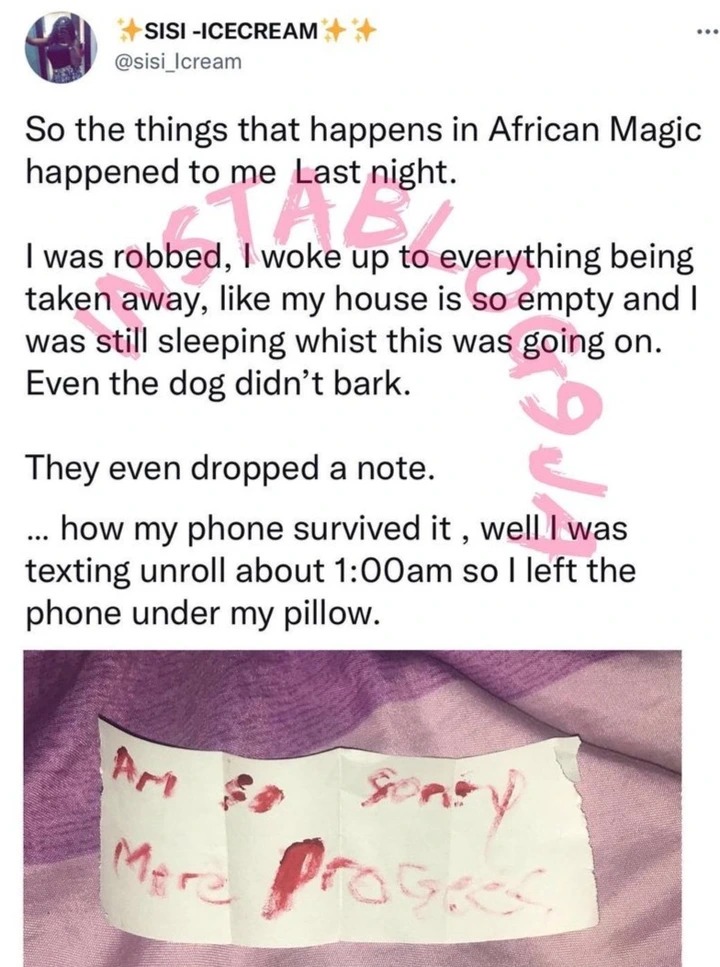 She said she was sleeping when all this happened. It was like a movie to her. She was robbed while she was asleep. Not even her dog raised an alarm. She said after the thieves robbed her, they left a note on her bed for her.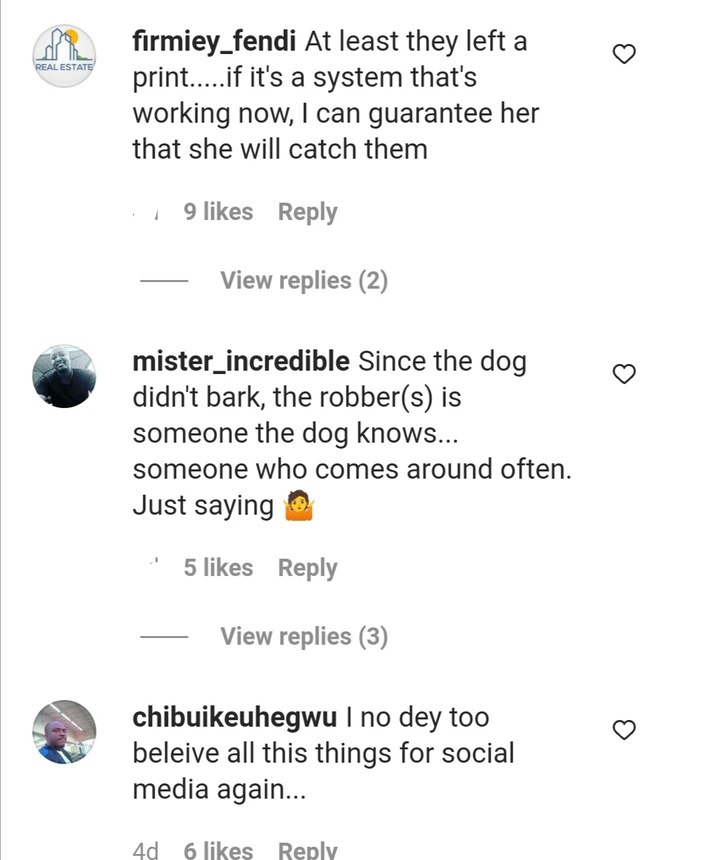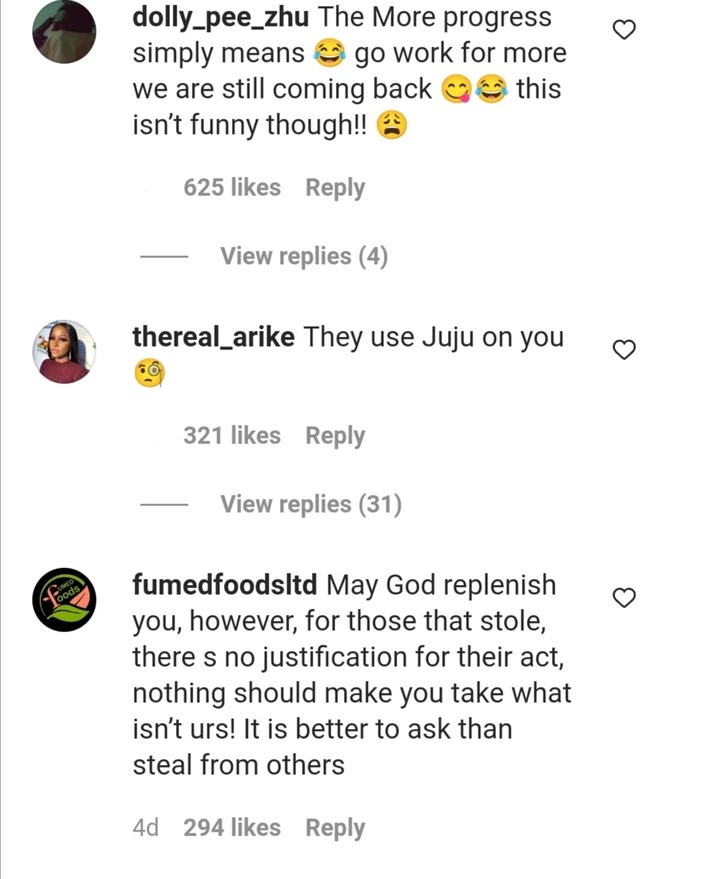 The texts were written with her lipstick. The note they left for her says, "I am so sorry, more progress to her because she was texting on roll before she slept off. Her phone was not taken.
Some social users thought the thieves might be her neighbors or someone that knows her. They might still come back again. What do you think?
Source: www.GhanaCNN.com
Cheating Husband Recorded While Doing Shakara In The Kitchen With Hookup Girl (Video)
Cheating Husband Recorded While Doing Shakara In The Kitchen With Hookup Girl (Video)
Osomafo The Great, a popular instagram channel on Instagram has shared a video of a cheating husband and a hookup girl.
In the video, the hookup and the married man was seen with a hookup girl in the kitchen as he stares at the lady wwho was ever ready for action.
Surprising as the hookup girl exhibited it all, the wife of the cheating husband came into the kictehn surprisingly.
Please subscribe to the channel on IG.
Watch the video below:
View this post on Instagram
Source: www.GhanaCNN.com
Bola Ray Marks 25 Years In Media Career, Launches 'Project Impact' To Mentor Young People
Bola Ray Marks 25 Years In Media Career, Launches 'Project Impact' To Mentor Young People
Ghanaian media mogul and CEO of EIB Network, Nathan Kwabena Anokye Adisi, better known as Bola Ray has launched 'Project Impact' to celebrate his 25 years as a media practitioner.
According to the media entrepreneur, as part of his celebration-themed "Impact @ 25," 'Project Impact' is curated to mentor young people who aspire to excel in their fields of endeavour.
Speaking at the launch held at Platinum Place, Ridge, Accra, he revealed plans to hold mentorship programmes every month for young people across the country to afford the youth to attend thought leadership seminars to change their narratives and be influenced by mentorship.
This is part of his efforts to give back to society and ensure equal opportunity for the youth, he explained and added that "Project Impact" will have personalities from all industries – fashion, music, agriculture, finance, etc. – to guide young people in making career choices.
In 1997, an ambitious visionary started what, in a few years, became one of the leading media personalities' brands in Ghana.
With 25 years of growth and ground-breaking success, Bola Ray has set benchmarks as not just a media personality but an influential brand that has mentored and inspired young people to find their path to success.
Bola Ray gave wings to his vision and launched as a radio host in 1997 at Radio Universe. He started when digitalization was still in its infancy and the internet was uncharted territory.
But due to his unique presenting style, he quickly became a household name in the Ghanaian media space and won many prestigious awards.
With his excellent industry insights and creative prowess, Bola Ray has spearheaded some ingenious ideas and path-breaking campaigns to inspire the next generation and promote Ghanaian tourism.
Bola Ray, is CEO of the African-facing EIB Network and the founder of Empire Protocol.
The 25th-anniversary celebration is dubbed 'Impact at 25 with Bola Ray', and will feature activities including a school outreach and mentorship programme.
Source: www.GhanaCNN.com
The Crown Season 5 Release Date, Cast and Everything You Need To Know
The Crown Season 5 Release Date, Cast and Everything You Need To Know
The Crown is an excellent Netflix Original show, loosely based on the real-world events following the political rivalries and romances of Queen Elizabeth II's reign, as well as events that shaped the second half of the 20th century. Brilliantly dramatised of course, to make for a great watch.
Seasons 1 to 4 have given us all a history lesson from the 1940s to the 1980s, and after Margaret Thatcher and Lady Diana Spencer both debuted in season 4, all eyes are on season 5 and which events we will see next.
Here's everything you need to know about season 5 of The Crown, including who has been cast, when it was released and what we can expect.
The Crown season 5 release date: When is it out?
Netflix released season five of The Crown on 9 November 2022. Season 4 of The Crown arrived on Netflix in November 2020, so we've been waiting two years.
Season 3 appeared two years after season 2 of The Crown though, along with the new cast, so it's not surprising season 5 and its new cast have arrived when they have.
How and where to watch The Crown season 5
Season 5 of The Crown is only available to watch on Netflix.
The show is a Netflix Original, like Bridgerton, so you if you want to watch it, then you'll need to be subscribed to Netflix.
How many episodes will there be in The Crown season 5?
There are 10 episodes in The Crown season 5.
Seasons 1 to 4 all have 10 episodes, resulting in a total of 40 episodes prior to season 5 being released, so it's unsurprising season 5 stuck to the same format, especially as a season 6 is planned.
What is expected to happen in The Crown season 5?
The Crown season 5 will carry on from where season 4 left off, which is the latter part of 1990. It is expected that season 5 will therefore cover the 1990s, though it is not totally confirmed which exact events will be given airtime or what showrunner Peter Morgan will focus on.
There's quite a few to choose from though, including the fire at Windsor castle in 1992, the Queen's 40th anniversary of her accession to the throne and the breakdown of several of her children's marriages. All of those appear to be present based on the first full trailer for the show, which you can watch at the top of the page.
There's also Princess Diana in the second half of the decade. Not only her interview with journalist Martin Bashir, but also her divorce from Prince Charles in 1996 and her tragic death in 1997. The season will cover the death, but Netflix told The Sun: "The exact moment of the crash impact will not be shown".
Source: www.GhanaCNN.com