True Love Exist As Female Lecturer Shocked After Her Personal Security Guard Lover Proposed To Her At The University and Causes Stir -WATCH
True Love Exist As Female Lecturer Shocked After Her Personal Security Guard Lover Proposed To Her At The University and Causes Stir -WATCH
A Ugandan university lecturer has taken the internet by storm after she was surprised with a marriage proposal from her security guard lover. Ugandan lecturer has surprised many after she was proposed to by her security guard lover..The security guard went all out in proposing to his girlfriend a lecturer with a ring on the road causing all the vehicles and passerby to stop and cheer them. Their photos have been circulating on social media where one can see him kneeling down on one knee and popping the question as she was walking into work.

The lady seemed shocked but happy for what she had just heard from him as she said yes without any hesitation whatsoever. She promised to help him further his studies since he has interest in education. Security guard won the lecturer's heart with his warm jokes after he was signed to her fence.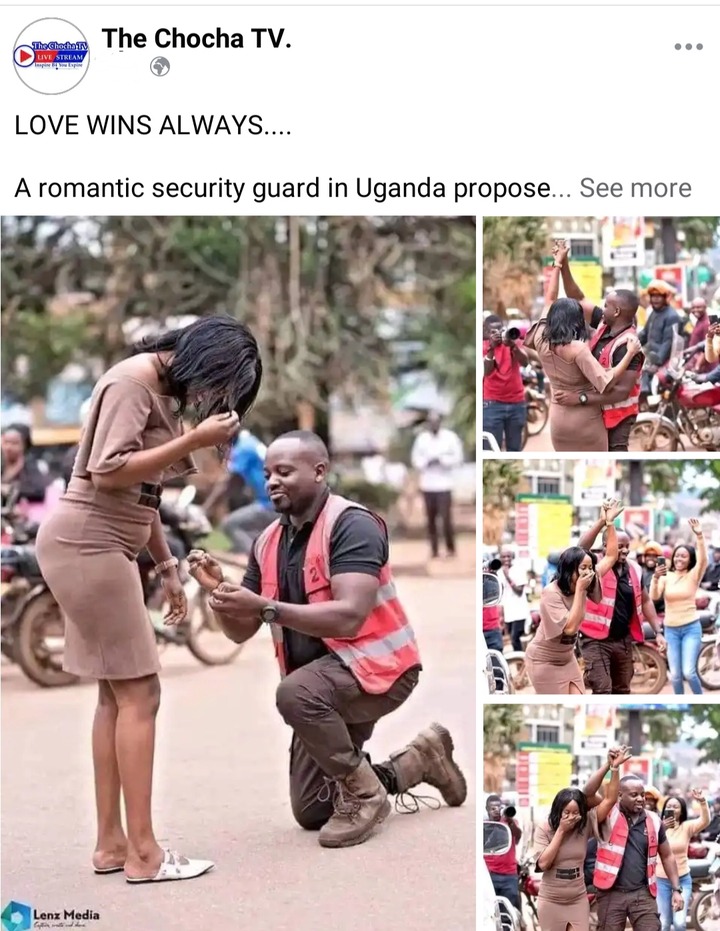 According to the lecturer, she is a proud woman who will never be ashamed of anything. She said that she does not care about what people say about her relationship with her security guard boyfriend since he loves her and treats her like a queen.
Congratulations to them, he's a lecturer while she's a security guard. How many of today's ladies with agree to marry a man that is below their standard. Indeed love is blind please congratulate them.
Source: www.GhanaCNN.com
Black Sherif Is The Definition Of A Good Musician – Elon Musk
Black Sherif Is The Definition Of A Good Musician – Elon Musk
Renowned business magnate and Investor, Elon Musk, has lauded Ghanaian Young music talent black Sherif for his music.
According to the founder and CEO of Tesla, Black Sherif is his favourite artiste because his songs resonate with him.
Speaking in a recent video, he admitted that, the 'Soja' crooner is his definition of a good musician.
He said, "My favourite musician is Black Sherif, I can largely relate to his songs because is my kind of song. I listen to songs in my car "
He revealed that he is hoping to see the BET nominee soon.
Black Sherif is gearing up on his debut album, " The Villian I never was"
Source: www.GhanaCNN.com
Success Is Not Sexually Transmitted – Delay Educates Ladies Dating Rich Men
Success Is Not Sexually Transmitted – Delay Educates Ladies Dating Rich Men
Controversial television presenter Deloris Frimpong Manso well known as Delay has shared a piece of advise to ladies dating rich men.
A lot of women have the perception that when they are in a relationship with a man who is financially stable, it automatically makes them rich.
This perception from a lot of women follows the advice from Delay. According to her, success can never be transmitted or guaranteed by dating a rich man. Delay has advised women to take the notion that dating a married man will make them equally rich.
In a tweet sighted on her page, she wrote, "Hello there, dating a rich guy doesn't guarantee that you'll make it in life. Success is not sexually transmitted".
Source: www.GhanaCNN.com
'Queen of Country' Loretta Lynn Dies At Age 90
'Queen of Country' Loretta Lynn Dies At Age 90
Loretta Lynn, whose songs of strength and independence made her a standard-bearer for women in country music, has died at the age of 90.
Known as the Queen of Country music, her songs were rooted in real-life experience, most notably on the autobiographical Coal Miner's Daughter.
Other hits included Don't Come Home A-Drinkin', Honky Tonk Girl and the feminist anthem, The Pill.
Lynn's family said she died on Tuesday at her home in Tennessee.
In a statement, they wrote: "Our precious mom, Loretta Lynn, passed away peacefully this morning, October 4, in her sleep at home in her beloved ranch in Hurricane Mills."
They ask for privacy as they grieve and say a memorial would be announced later.
Lynn earned her first number one with Don't Come Home a Drinkin' in 1966 and topped the US country charts another 15 times.
She recorded 60 albums in total, and was nominated for 18 Grammy Awards, winning three.
Source: www.GhanaCNN.com